Rockets host, beat Shanghai Sharks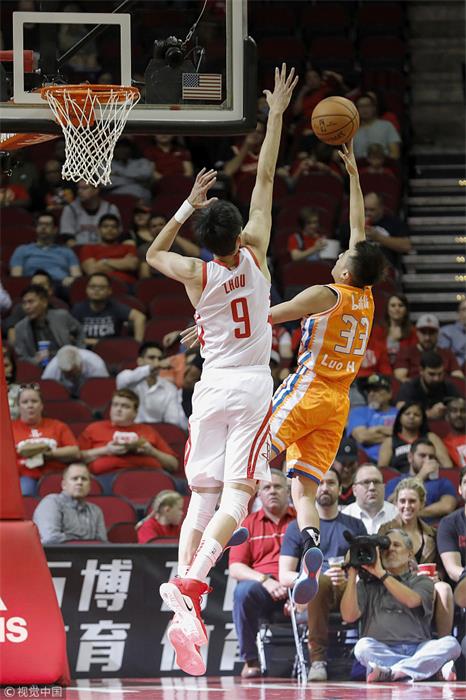 There were one or two coincidences in play at the NBA preseason game between the Shanghai Sharks and the Houston Rockets on Tuesday at the Toyota Center.
Sharks head coach Li Qiuping, who more than 20 years ago coached the team and trained future Rockets star Yao Ming, recently re-signed as coach, after being away for almost 10 years pursuing other opportunities.
This is the third year that the Sharks have come to play the Rockets as part of both teams' preseasons, an arrangement made by Sharks owner Yao Ming and his old NBA team, said Li.
In addition, two other teams from the China Basketball Association (CBA) — from Beijing and Guangzhou respectively — were invited to the US to play preseason games for the first time.
"Right now the Shanghai Sharks are not the best team in the CBA," Li said. "We hope to improve our skills by participating in NBA preseason games. We would certainly welcome more such opportunities in the future."
Argentinean Luis Scola joined the Sharks in 2017. He signed with the Houston Rockets in 2007 and was Yao Ming's teammate for a while. During the game, the Toyota Center played a special video to welcome him back to his old home court.
Another former NBAer, Jimmer Fredette, joined the Sharks in 2016.
"We recruit foreign players to improve our own skills as well as to make the game more appealing to the fans," Li said.
Li said that the former NBA players are better skilled than their Chinese teammates, and a game against the Rockets also helped the team get better coordinated and in sync with each other.
Unfortunately during the first half, Rockets player Zhou Qi was injured and had to be wheeled off the court.
Zhou Qi joined the Rockets last year from CBA's Xinjiang Flying Tigers, a team Li also coached.
"I am very sorry that Zhou Qi got injured," Li said. "He will be examined later, and I hope it's nothing serious. I hope he will have more playing time this season."
The Rockets won the game by a considerable margin — 128-86.
"Our team's skills are certainly no match for the Rockets, which is a top team in the NBA, with strong offensive abilities.
"But I think the Sharks did their best, despite the fact that we need to improve on both our offense and defense," Li said.
Some American fans brought signs such as "I love you Sharks!" to show their support to the team that is now owned by their former All-Star Yao Ming. Other fans held a big sign that read simply: "YAO".
Contact the writer at mayzhou@chinadailyusa.com