Wake-up call to climate change
Share - WeChat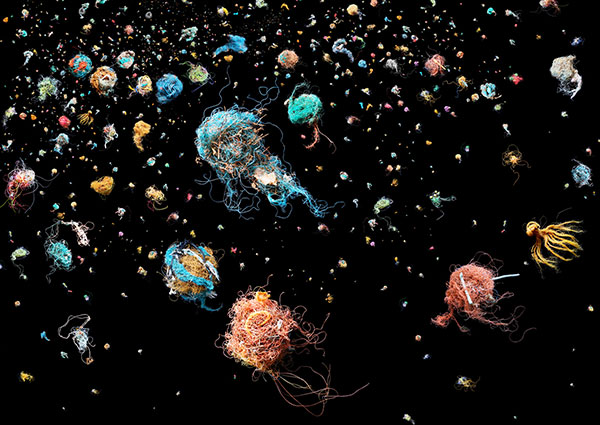 Two artists at the Centre for Chinese Contemporary Art in the UK explore climate change and social responsibility.
After the hottest summer on record, climate change is now a global reality that cannot be ignored. Increasingly, people are asking what changes can be made to protect the environment and minimise our impact, both on an individual and a societal level. This month, the Centre for Chinese Contemporary Art (CFCCA) in Manchester, England has programmed two solo exhibitions by artists that demonstrate the pressing need for these questions – and explore what can be done.
In Hong Kong Soup: 1826, the award-winning British photographer Mandy Barker demonstrates, with ironic beauty, the extent of plastic in our oceans, while in Bulaubulau, Taiwanese artist Charwei Tsai presents alternative solutions that draw on the sustainable practices of indigenous communities in Taiwan for her first solo show in the UK. Tsai uses installation, film, photography, ink drawings and a new video commission that document eco-living in three such communities.
The exhibition particularly examines the increasing impact of climate change on communities who are impacted by typhoons, landslides, flooding, pollution and other environmental damage. Through her work, Tsai seeks to highlight the injustices inflicted on these communities, often caused by the neglect of policymakers; in light of this, Tsai celebrates the communities' resilience and successes in implementing sustainable economic and educational systems, as well as preserving spiritual practices and traditional knowledge.
Concerned about the unsettling truth of waste pollution in the world's oceans and beaches, Barker, recipient of the 2018 National Geographic Society Grant for Research and Exploration, collected and photographed waste debris (from 2012 to 2015) from more than 30 Hong Kong beaches. This debris, widely referred to as "soup", escapes recycling or landfills and ends up in the sea, some of which is then washed up on beaches. Barker's manipulation of the images to give a highly aesthetic look contradicts the subject matter, encouraging viewers to pause and reflect. The photographs are accompanied by a video documenting the project and highlighting the key environmental issues involved.
Both exhibitions, which run until January 20, 2019, are part of the CFCCA's Season for Change, which runs to the end of this year and features programming that explores contemporary art as a platform for raising awareness about environmental issues.

Most Popular