Harvard trial begins in discrimination case
Share - WeChat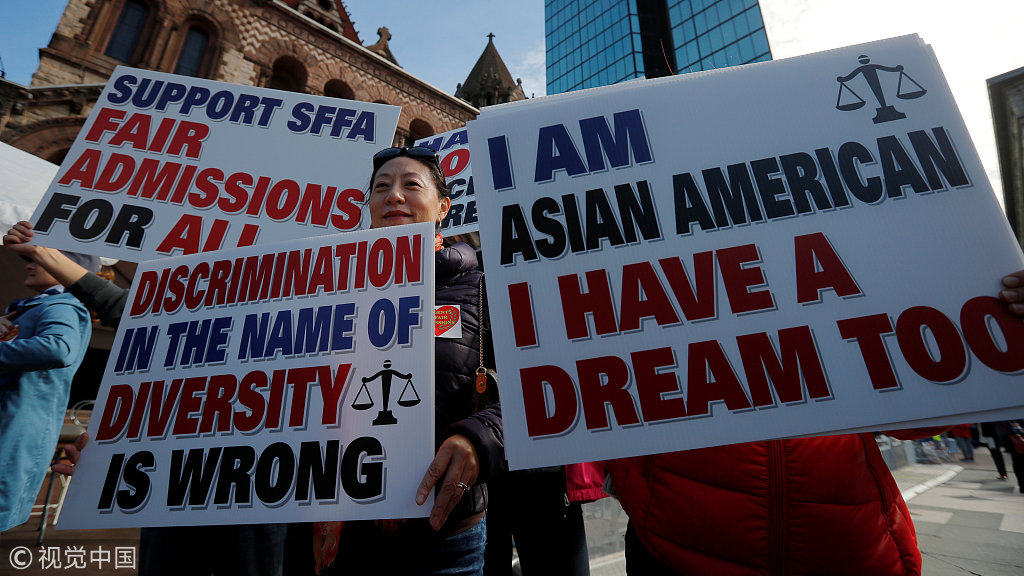 A lawsuit accusing Harvard University's admissions process of discriminating against students of Asian-American descent opened in federal court on Monday in Boston.
The Ivy League school's legal team denied any discrimination in its opening statement, saying race is just one factor that is considered and can only be considered in a positive way that helps a student's chances of getting admitted.
"Harvard has engaged in, and continues to engage in, intentional discrimination against Asian-Americans," said Attorney Adam K. Mortara, who is representing the plaintiff-Students for Fair Admissions, a group representing Asian-Americans-in an opening statement, according to The Washington Post.
The group alleged in court that Harvard violated Asian-American students' civil rights by penalizing them for their race at key stages of deliberations.
Mortara repeatedly used statistical analyses and said the data show Harvard gives Asian-Americans significantly lower ratings for subjective personal qualities than applicants from other racial groups.
The case drew dozens of spectators, who packed into the courtroom and two overflow rooms on Monday, some wearing blue shirts that read "Defend Diversity" in support of Harvard. A day earlier, backers from both sides hosted dueling rallies in Boston, according to The Associated Press.
After opening statements, the plaintiffs questioned Harvard's longtime admissions dean, William Fitzsimmons, who acknowledged that Harvard uses different cutoffs based on race and geography when choosing high school students they invite to apply.
Fitzsimmons defended the policy by saying the letters to white students in more rural states help the school recruit from areas where students may be less aware of Harvard, according to The Wall Street Journal.
The expected three-week trial, which began in 2014 when the nonprofit organization SFFA filed suit, could become another landmark in the long debate over affirmative action.
Harvard has said in court filings that the lower personal rating can be explained by observable and "unobservable factors" seen in teacher recommendations, essays and interviews, and that internal reports were preliminary and incomplete.
"You have to start with the lead (universities) like Harvard to address a problem like this," Raymond Wong, of the Asian-American Coalition for Education advocacy group, told China Daily on Monday.
Wong said that while many other US universities have the same problems, starting with leading universities will make authorities and people pay attention to this issue.