Brazil's Bolsonaro denies illicit campaign finance accusation
Share - WeChat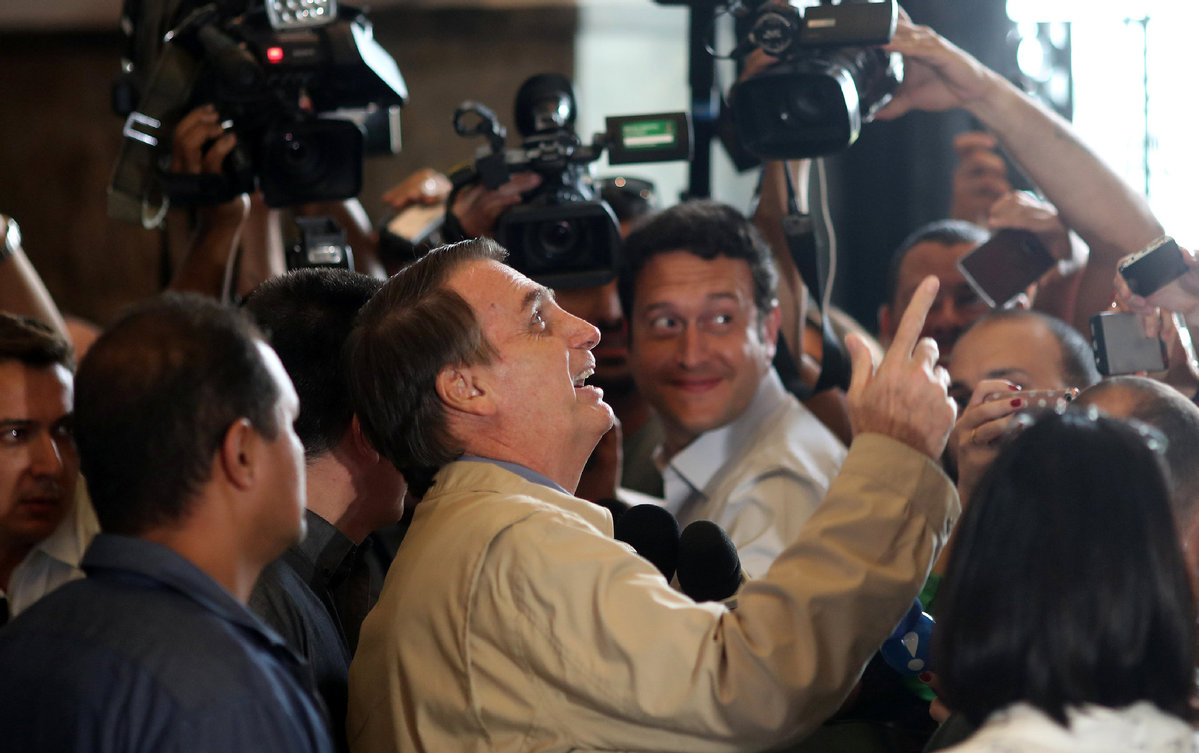 BRASILIA/SAO PAULO - Brazilian far-right presidential candidate Jair Bolsonaro on Thursday denied an accusation that he sought funding from business leaders to purchase mass WhatsApp messages, in an alleged campaign finance violation.
But Bolsonaro is still leading leftist candidate Fernando Haddad, according to the latest Datafolha poll published by Globo TV, which showed Bolsonaro with 59 percent of voter support, compared with 41 percent for Haddad. In a Datafolha poll last week, Bolsonaro had 58 percent versus 42 percent for Haddad.
The poll, which interviewed 9,137 people and had a margin of error of 2 percentage points, suggests Bolsonaro is increasingly likely to win the Oct 28 run-off vote and become Brazil's next president.
But a hiccup emerged on Thursday, when newspaper Folha de S.Paulo reported that well-heeled Bolsonaro supporters had paid for messaging by third-party agencies, splashing out up to 12 million reais ($3.26 million) each to spread tens of thousands of attack ads.
The Folha accusation energized Bolsonaro's struggling opponent Haddad of the Worker's Party (PT), who said his party has witnesses saying Bolsonaro asked business leaders at a dinner in Sao Paulo for funds to pay for the bulk messaging, which he described as undeclared campaign contributions.
Bolsonaro, who has barely campaigned in recent weeks as he recovered from a near-fatal stab wound, used a Facebook Live video to deny the allegation. He had earlier described the messaging as "voluntary support."
"Since Sept 6, I've been out of the fight. I was in the hospital 23 days, and I've been at home a few days. I did not dine or lunch with anyone. I only went out five times," Bolsonaro said.
Campaign propaganda has flooded social media in Brazil ahead of the run-off vote. The issue of fake news and abuse of social media has been a growing concern in elections across the world, and tech giants have come under growing pressure to stem the growth of misinformation.
The Workers Party filed a formal complaint with Brazil's election tribunal, asking it to investigate the Bolsonaro campaign and five companies cited in the Folha report for alleged abuse of economic resources and illicit use of communication media. PT lawyers also asked prosecutors and Brazil federal police to conduct a probe.
In a radio interview, Haddad said the Bolsonaro campaign had "created a veritable criminal organization with businessmen who are using undeclared money to pay for false messages on WhatsApp." He also called on international election observers and WhatsApp itself to look into the case.
However, a Brazilian public prosecutor with experience in cyber crime was skeptical whether the allegations would constitute a serious crime. Legal precedents that apply to public social networks such as Facebook and Twitter may not apply to WhatsApp, where users communicate in smaller groups, said the prosecutor, who requested anonymity to discuss the case.
A representative for WhatsApp, which is owned by Facebook Inc, said the report was being taken seriously.
"WhatsApp has proactively banned hundreds of thousands of accounts during the Brazilian election period," the spokeswoman said. WhatsApp's spam detection technology spots accounts that engage in automated behavior and spread misinformation, she said.
Bolsonaro has vowed to pursue market-friendly policies laid out by his economic adviser, University of Chicago-trained economist Paulo Guedes, who has said that widely respected central bank chief Ilan Goldfajn would be asked to stay on.
However, Goldfajn is preparing to step down by the end of the year, Bloomberg reported on Thursday, citing two unnamed people who spoke to Goldfajn about the matter.
The central bank declined to comment.
Reuters