Old NY Chinatown comes to life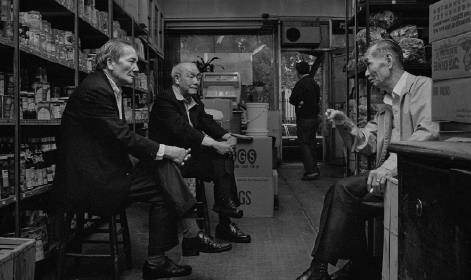 In January 1981, photographer Bud Glick entered New York City's Chinatown with his camera in hand. He was immediately attracted by the closely connected, densely populated, robust community and its bustling street life.
"The population density, the amount of life out on the street really blew me away," said Glick. "Especially as it was winter, in January. (I saw) all kinds of businesses, there were people out, living their lives, interacting in this fantastic way."
Enthusiastically, he started a three-year-long project of documenting the Chinese-American community of New York City, exploring the lives of hundreds of Chinese people and chronicling the everyday activities of the neighborhood.
Dozens of the photos he took back then are now on display in the exhibition Interior Lives: Photographs of Chinese Americans in the 1980s by Bud Glick at the Museum of Chinese in America in New York.
For Glick, the photos hold rich memories of people who invited him into their lives, made friends with him and trusted him to tell their stories through his lens.
"It was a January day," recalled Glick, pointing to an early picture in the project — a man grinning in front of a grocery store. "I was walking down the street. It was cold. (He) sees me with the camera. He looked up at me with a big smile and said, 'Take my picture!'"
Through his photos, Glick connected with numerous people, and through them, saw a community going through a particularly challenging time.
One of the photos on display — a couple sitting in their living room with the husband staring at his wife — had historical and social implications.
At the time of the photo, Chow, the husband, had been separated from his wife for more than 30 years after he came to the US alone in the 1950s. Immigration policies at the time prevented her from joining him, and they had been parted for so long that they did not recognize each other when they finally got back together.
"To me, it was such an important story — part of the experience of Chinese immigrants," said Glick. "I just wanted that story to be told. It's really exciting for me that I'm able to play a small role in telling the story of one couple."
Like many other of the Chinese photographed by Click, Chow was a laundry worker. A well-educated man from a wealthy Chinese family before he came to the US, he told Glick that he "hated the job", but it was one of the few occupations Chinese immigrants were allowed to do at the time.
"The Chinese had a hard time over the course of years," said Chen Lemin, whose mother appeared in some of the photos.
Finding jobs and places to live was a great challenge for Chinese immigrants back then, said Chen, recalling the time when she lived in one small room of an apartment with her parents and siblings.
Seeing her past now put in the spotlight through the photos, she felt more "proud" than anything, she said, "because you can see people worked hard and they passed on values and education".
All that individual Chinese Americans had been through are the fundaments of the community, said Yuet-fung Ho, who helped Glick document the stories.
"I'm so glad that the museum is doing this," letting the community know what it was like back then, she said, adding that it was important for people to know their roots because it makes the community more powerful.
For outsiders, the photographs show how Chinese Americans managed to thrive despite a
challenging environment.
"I'm very moved by it all," said Judy Susman, a visitor to the exhibit. "One thing I love about the photographs is they give you a glimpse of how hard their life once was, but with what dignity people lived that difficult life."
In the 37 years since Glick took his first photo, Chinatown has experienced an enormous transformation, expanding in size and population. According to the US Census Bureau, in 2017 approximately 630,000 Chinese people resided in New York City, the largest Asian community, making up 7 percent of the city's population.
New businesses are thriving, and new immigrant groups are coming in, observed Glick, but the energy that once attracted him and other Chinatown visitors remains the same.
"It was always a place of great energy and life, as it is today," said Susman. "That's one aspect of Chinatown that has not changed — and it's one of the things that is so wonderful about it."
The exhibition will be on view through March 2019.