Brazilian poll shows diminished gap between Bolsonaro, Haddad
Share - WeChat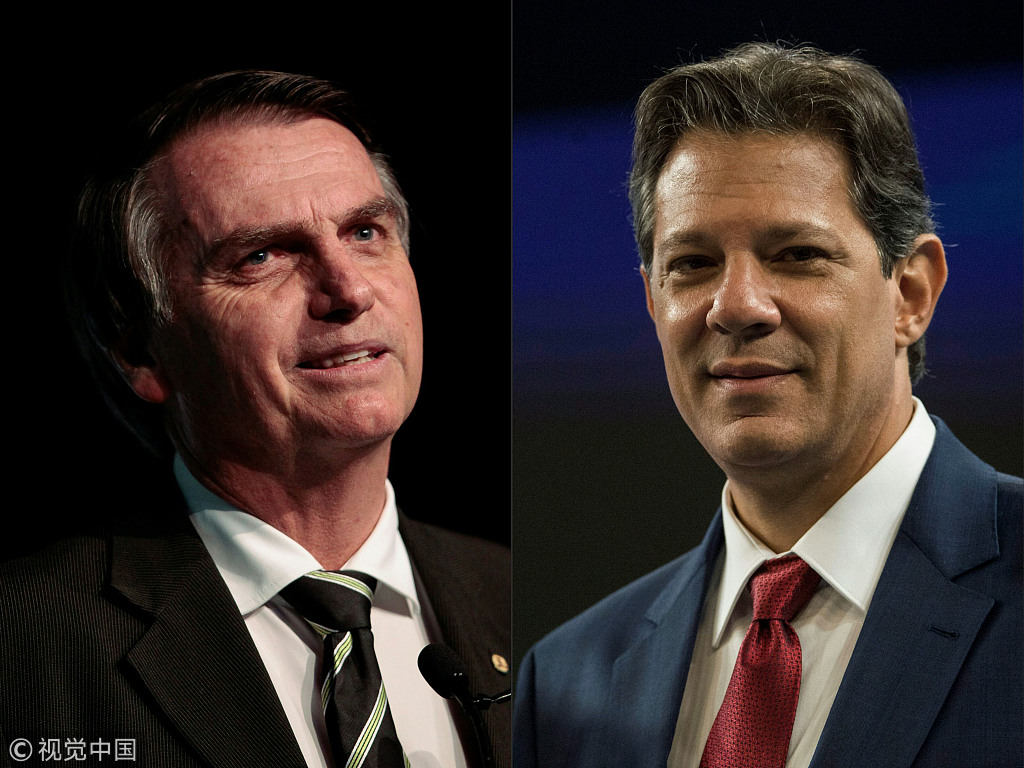 RIO DE JANEIRO - The second Ibope poll for the second round of Brazilian elections, released on Tuesday evening, showed leading candidate Jair Bolsonaro with 57 percent of valid votes, compared with 43 percent for Workers' Party's Fernando Haddad.
The poll shows a slight reduction in the gap between the two candidates - in the first poll published on Oct. 15 when Bolsonaro had 59 percent of valid votes and Haddad had 41 percent.
As to voting intentions, Bolsonaro has 50 percent in the second poll, down from 52 percent in the previous poll while Haddad's voting intentions remained stable at 37 percent.
Ten percent of respondents said they will vote null, up from nine in the previous poll, and undecided voters rose from two to three percent.
In the first round of elections, Bolsonaro had 46 percent of valid votes, while Haddad had 29 percent.
The rejection rate of both candidates was practically the same in this poll - 40 percent for Bolsonaro against 41 percent for Haddad. The figures are considerably different from the previous poll, in which Bolsonaro had a rejection rate of 35 percent and Haddad, of 47 percent. In the first round of elections, all polls pointed to Bolsonaro having the highest rejection rate among all candidates.
Bolsonaro's rejection is attributed to his many offensive statements and stances, while Haddad's is attributed to the high rejection to the Workers' Party, after several corruption scandals.