Festival makes Chinese music trends shine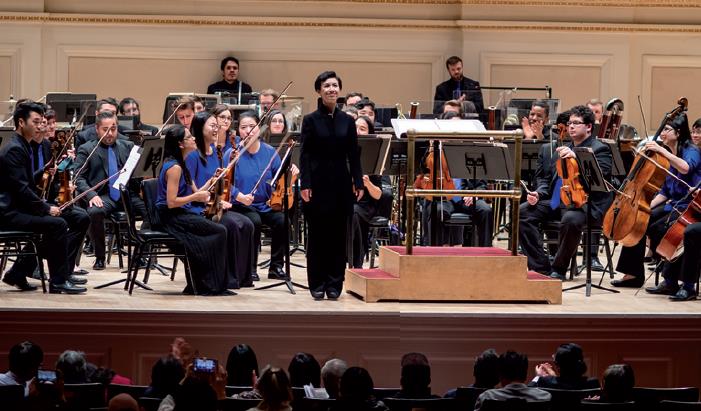 The center of world symphony music is shifting, and "of course Asia and especially China are important parts", said the artistic director of the China Now Music Festival.
"Western classical music is developing in China at phenomenal speed, but just as exciting is the freshness that Chinese composers bring to the Western world," Director Cai Jindong said after the festival at Carnegie Hall on Monday.
The theme of the 2018 China Now Music Festival was Facing the Past, Looking to the Future: Chinese Composers in the 21st Century.
The concert was a window on the future of Chinese music, with a program featuring world premiere compositions by the distinguished faculty at the Central Conservatory of Music (CCOM) in Beijing.
Cai said contemporary Chinese musicians are good at taking in the riches from different cultures and are taking advantage of their skills to present those works.
"With the China Now Music Festival as our looking glass, we hope to bring people and cultures from East and West together through music," he said. "And at this time, showcasing the talents of Chinese composers and the richness of the contemporary symphony works in China."
The six compositions performed were Guo Wenjing's Zang; Qing Wenchen's The Light of the Deities; Chen Xinruo's Yun Shao; Jia Guoping's The Landscape of the Northern Country; Tang Jianping's Lin Xiang Jie-Concerto for Orchestra; and Chang Ping's Singularity.
The concert was the curtain call for the China Now Music Festival (Oct 19-22), which also included two other concerts, at Bard College in Annandale-on-Hudson, New York last Friday, and Lincoln Center in New York on Sunday, with academic discussions held simultaneously.
The festival was established to promote understanding and appreciation of music from contemporary China through an annual series of concerts and academic activities, Cai said.
"All three concerts were exciting and successful," he said. "I think it's very meaningful to build such a platform in New York as the world cultural center."
Cai is also professor of music and arts at Bard College and director of the US-China Music Institute of the Bard College Conservatory of Music.
All concerts conducted by Cai and Chen Lin, professor at CCOM, featured Bard College's The Orchestra Now (TON). TON is a group of young musicians from around the globe, in residence at Bard College. They are looking to make orchestral music relevant to 21st century audiences.
The festival is part of Bard's partnership with the CCOM, through its five-year Chinese Music Development Initiative. Seven composers from the distinguished faculty of CCOM have been commissioned to compose new works, which made their world premieres at the festival.
"Bard Conservatory in Bard College is very honored to have this opportunity to present this wonderful music and these wonderful composers, to explore these ideas and to welcome our colleagues from China," said Robert Martin, director of Bard Conservatory of Music.
"It will grow increasingly over the years as we continue each year to have this festival," he added.
Cai said that although conflicts exist between China and the US politically, there are many connections being made through cultural exchange.