Curtain to go up in May for mega-theater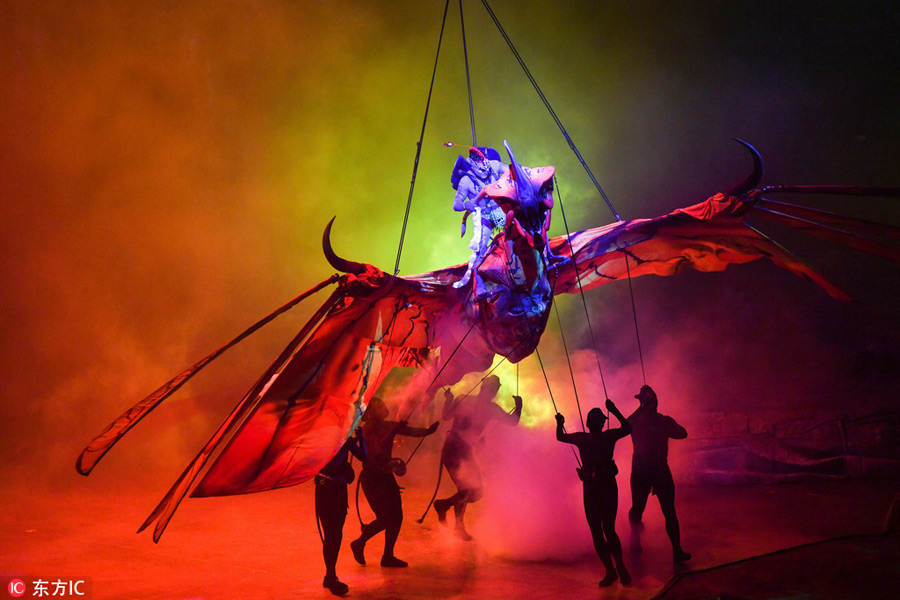 Five years after reaching a partnership with a Chinese real estate developer for a permanent show in Hangzhou, Zhejiang province, Cirque du Soleil announced on Wednesday that the show will premier in May in what it calls "the most expensive theater ever built".
The theater, in a renovated factory on the outskirt of the city, was built with an investment of 1.5 billion yuan ($220 million) by Hangzhou Xintiandi Group, a privately owned developer of tourism and cultural projects across China.
This project is also the biggest investment so far by the company, which was founded in 2008 and has total assets of 30 billion yuan.
It will also be the Canadian entertainment company's only resident show in Asia.
"Cirque du Soleil is a global leader in entertainment. And as a global leader in entertainment, we want this show to be the most popular in the world," Daniel Lamarre, CEO of the Quebec-based company, said at a news conference in Hangzhou.
Liu Wendong, chairman of Hangzhou Xintiandi Group, wants the show to be an attraction that is equally appealing as the city's West Lake, a UNESCO listed intangible cultural heritage site, for both tourists and local residents.
He predicted that the show, once it is staged regularly, would attract 100,000 visitors annually to the 1.8-million-square-meter commercial project developed by the company, where the theater is located. The project, Xintiandi Central Activity Zone, also has Asia's largest bar and largest IMAX cinema.
The ticket price of the 70-minute show has yet to be decided. But Liu said it would be definitely higher than that of the tour shows performed by Cirque du Soleil in China in recent years, which ranged from 280 to 1,980 yuan, according to previous online booking records.
The show will be performed twice to three times daily six days a week, except Mondays.
Tickets for the premier show will be auctioned during e-commerce giant Alibaba's Nov 11 shopping extravaganza.
With 1,450 seats, the theater has been designed exclusively for the show. By adopting state-of-art technology, the seating area is divided into two parts, both capable of revolving at 360 degrees, while artists perform between them.
The show will be supported by 51 artists, half coming from Asia and mostly from China, and 75 technical staff. An independent company, employing around 300 people, has also been established to provide daily operations for the performance.
Cirque du Soleil and Xintiandi Group will be sharing the ticket revenue, according to Liu.
In response to his previous projection that China will have five resident shows in five years, Lamarre noted that he was "evoking the possibilities of Cirque du Soleil in China" and things are proceeding "as planned".
"We have seven permanent shows in North America. Considering the size and potential of China, I think it's a fair plan," he said.
"The live entertainment industry in China today is very much like the movie business here 15 years ago, ready to pick up," he added.
The occupancy rate of the company's latest touring show in China, Kooza, is around 70 percent, a result that Lamarre is very satisfied with but believes has further growth potential.