Synagogue shooting shows US political divide
Share - WeChat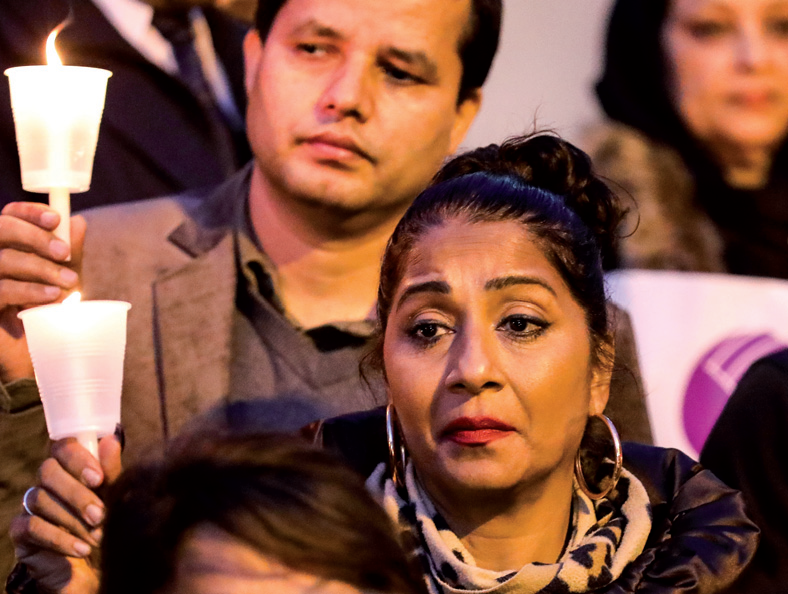 The violence at a Pittsburgh synagogue over the weekend in which 11 people were murdered is being amplified by the divisions in American politics.
US President Donald Trump and first lady Melania will travel to Pennsylvania on Tuesday to "express the support of the American people and grieve with the Pittsburgh community", White House press secretary Sarah Sanders said Monday.
The visit will occur a week before the pivotal midterm congressional elections on Nov 6, which will determine if Republicans maintain their congressional majority.
Pittsburgh Mayor Bill Peduto told reporters: "If the president is looking to come to Pittsburgh, I would ask that he not do so while we are burying the dead."
The mayor said the city would be hard-pressed "to provide enough protection at the funerals and to be able, at the same time, draw attention away to a potential presidential visit".
At a contentious White House news conference on Monday at which Sanders was questioned if the president's rhetoric had any link to the Pittsburgh shootings and the recent mail bombing spree against Democratic politicians, Sanders said: "The president cherishes the American Jewish community for everything it stands for and contributes to our country. … His daughter is a Jewish American, and his son-in-law is a descendant of Holocaust survivors."
Trump condemned the synagogue attacks and called for unity before later calling the "Fake News media the true Enemy of the People" on Monday.
Asked about the tweet, Sanders said: "The very first thing that the president did was condemn the attacks, both in Pittsburgh and in the pipe bombs. The very first thing the media did was blame the president and make him responsible for these ridiculous acts."
Robert Bowers, 46, the man accused in the shootings at the Tree of Life synagogue, appeared in a federal courtroom on Monday, where he was ordered held without bond for the deadliest attack ever on America's Jewish community.
Bowers acknowledged the 29 charges against him, which could lead to his execution. The suspect, who has a history of posting anti-Semitic material online, will get a court-appointed attorney.
Professor Daniel J. Flannery, director of the Begun Center for Violence Prevention and Research at Case Western Reserve University in Cleveland, Ohio, told China Daily that "since the early to mid 1990s, legislation in this country prohibited federal funds from being used to conduct any research on firearm violence, so we have little good empirical evidence about what might work in this space".
"There is no evidence that arming more persons, particularly those who are not highly (and regularly) trained, would effectively prevent these tragic mass shootings," he said. "It would likely lead to more accidental shootings, especially with law enforcement first responders who may not know who is a possible perpetrator and those who may be responding civilians."
"Debates are already raging about gun control, the death penalty, and security at houses of worship. But this tragedy, while bearing similarities to other recent mass shootings, is also very different," wrote Zach Schapira, executive director of the J'accuse Coalition for Justice, a nonprofit organization that fights anti-Semitism and anti-Israel bias.
"Coming on the heels of a record-breaking increase in anti-Semitic incidents in the United States, it represents a continued escalation in violence against Jews."
Bowers had made his threats on Gab.com, which bills itself as a free speech alternative to Twitter and also has been accused of allowing vitriolic comments and providing a forum for the alt right.
Citing a study by the Anti-Defamation League, Schapira wrote that about 3 million users made more than 4 million English-language anti-Semitic posts to Twitter between Jan 29, 2017 and Jan 28, 2018.
"Bigotry is contagious, and social media companies are failing in their obligation to curtail it," he wrote. "If there's one lesson from Pittsburgh, it's this: in all societies, hate speech breeds violence. It follows a predictable pattern, which begins with the dehumanization and demonization of a targeted group. Injustice, real or perceived, is then attributed to that group. Finally, crazed bigots set out to restore what they perceive as justice, with tragic consequences."
Flannery said he would "echo the recent calls that 'words matter'. The constant rhetoric, vitriol, accusations and anger cause divisiveness, mistrust and aggrieved entitlement among those who want to spread the violence. It is possible to have meaningful conversation about firearms in ways that balance a person's Second Amendment rights with other's rights to safety and security, but that is hard to do when persons go right to their extreme views and will not consider alternatives."
Reuters contributed to this story.
Contact the writer at williamhennelly@chinadailyusa.com