Time to end prejudice against esports
Share - WeChat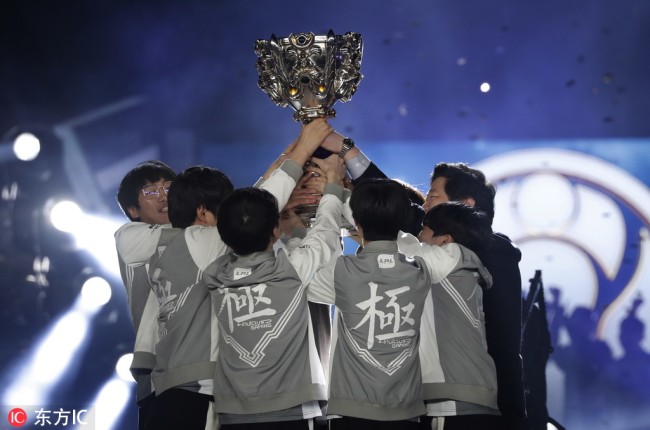 Whether you play esports or not, you must have heard about iG. On Saturday night, this team from China beat the FNC team from Europe and won the annual global championship for LOL in Busan, the Republic of Korea.
It is good news that a Chinese team has won the LOL championship. However, it should be acknowledged that it's the first time that a Chinese team has won LOL championship in the past seven years.
In terms of esports, China lags far behind the ROK. Actually, even during this championship, three of the six members of the Chinese team were from ROK. That is rather surprising as China has the largest number of esports players, the largest audience, as well as the biggest esports market in the whole world, all of which are prerequisites for good esports performance.
The root cause lies in a long-existing prejudice against esports in China. While a respectable professional career in the US, Japan, Europe and ROK, those taking part in esports in China have long been considered "game players". There are some people who dub esports as game of bad boys and treat esports players as internet addicts. On micro blogs there have even been calls about "treating" esports players as patients and "helping" them to get back to a "normal" life.
It is hard to imagine such voices still exist today. Ironically, such voices, full of hate for the internet, the computer, and the smartphone, are expressed on the internet via the computer and the smartphone. These people do not realize that what they are expressing is prejudice.
The public does not know the hard work that goes into becoming a qualified esports player. Unlike the money consuming cybergames, esports is a fair play, and a distinguished player must have both talent and passion to work hard.
Sometimes they work harder than chick-soup-for-the-soul stories. For example, Park Seung-hyun, a ROK player born in 1989, suffered from muscle disorders since 2000, and he was unable to move his fingers and neck. Yet he trained himself four to eight hours a day and became one of the Warcraft III players on this planet. He could play 200 times per minute with his fingers.
Park's death in May, 2013, was mourned by esports players and audiences all over the world. Isn't his story more moving than many heroes in textbooks? Wasn't he a good, hard-working man that everyone should respect?
A chief reason of esports players suffering from prejudice in the past was their low income. Before the age of mobile internet, esports players could hardly earn a fair income because the industry was far from being commercialized. Even Li Xiaofeng, who won World Cyber Game championships on Warcraft III in 2005 and 2006, got only $25,000.
Yet, with the technology of livestreaming, increasingly more people are becoming attracted to esports. At least 200 million people around the world watched the LOL championship that iG just won. More audience means more commercial opportunities, more investment, as well as more income for the players. Wang Sicong, boss of iG, promised to reward each of his players 1 million yuan ($145,119) for the championship, and latest news said he will honor it soon.
Hope more businesspersons will join the industry. Commercial success will help esports players get rid of the prejudice.
The author is a writer with China Daily.
Most Viewed in 24 Hours
China Views