LSU professor honored by China for work on wetlands conservation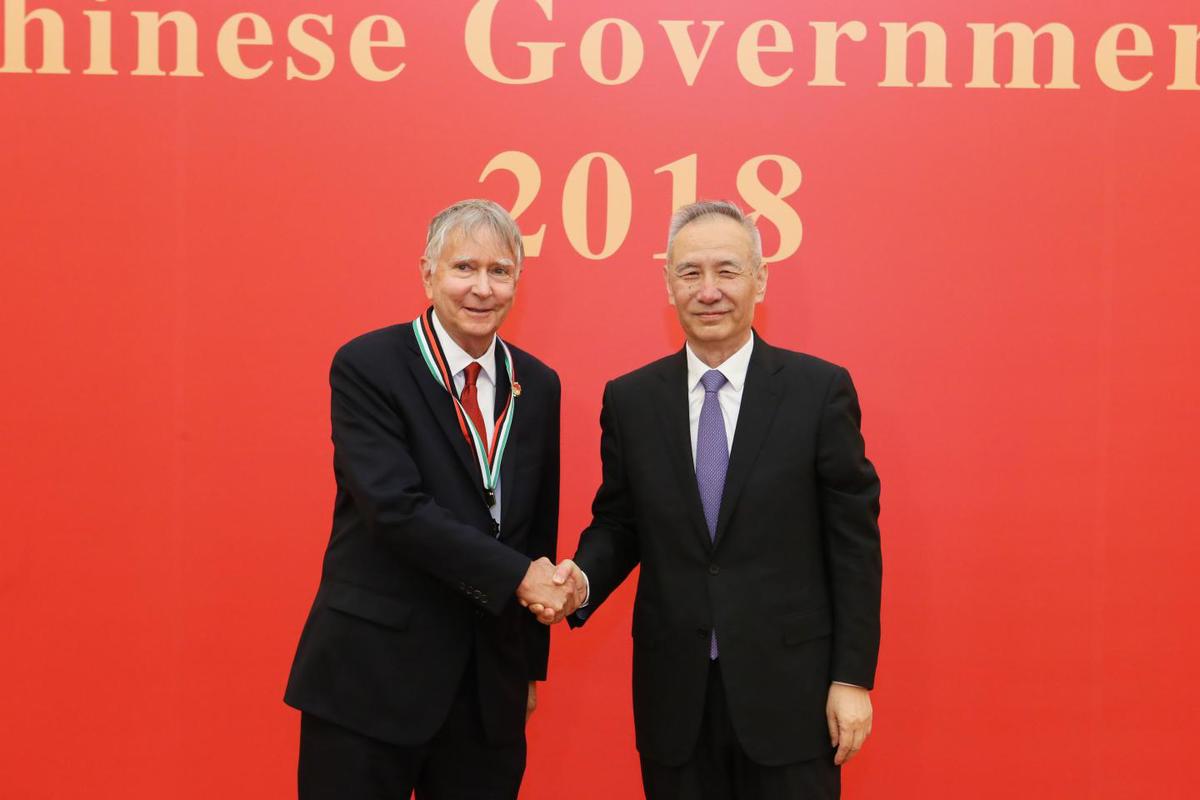 China has awarded its highest honor for a non-Chinese expert to a professor from Louisiana for his work on wetlands management and preservation.
Ed Laws, a professor of environmental sciences at Louisiana State University's (LSU) College of the Coast and Environment, was given the Friendship Award by Vice-Premier Liu He at a ceremony in Beijing on Sept 29.
Liu also presented the award to 49 other foreign experts from 21 counties working in China in recognition of their contribution to the nation's development.
"There are huge opportunities for the US and China to interact constructively. While there may be some issues with trade, we need to exploit these opportunities," Laws said in an interview.
He has traveled to China several times over the last 10 years, mostly to Qingdao and Xiamen, to further his collaborative endeavors in coastal wetlands research.
Laws, who teaches chemical oceanography and statistics at LSU, became involved with China more than a decade ago when he befriended and worked with a Chinese scientist who was at LSU.
"We did a study of an urban lake here and looked at the sediments," he recalled in an interview. "The lake was going to be dredged and the concern was whether the sediments would become a problem from a toxicology standpoint."
Laws went to the Qingdao Institute of Marine Geology for a month or so every summer and later added Xiamen University to his mainland trips.
"I interact with their scientists and particularly with their students. We work on manuscripts so we can get their articles published in scientific journals," he said.
According to Nengyou Wu, the director general of the Qingdao institute, Laws introduced innovative methods for measuring the primary productivity of wetland ecosystems. This brought an innovative impetus to the biogeochemical research at the institute and helped to establish a key coastal wetland laboratory within the China Geological Survey.
Laws also proposed wetland vegetation as a renewable resource, "creating great economic value for the reed paper industry in the region of the Liaohe River Delta in Northeast China", Wu said.
"You have a large area of phragmites, or reeds in northern China that is used for paper production," Laws said. "If you can make paper out of reeds, you don't have to cut down trees, which are very important in China."
He said the Chinese allow the reeds to grow in the summer and then in the winter when everything freezes over, and the reeds can easily be harvested and sent to a mill to be converted into paper.
Laws discovered that China's wetlands face similar issues to Louisiana's wetlands, "particularly in some of the areas in China where oil is being exploited''.
"You have the same kind of problems that we have here in Louisiana where there is a big industry presence," he said. "The Chinese have become concerned about the loss of wetlands habitat and the protection wetlands provide against storm surges and as a source for wildlife."
Laws has also helped send LSU students to China to work on research projects. "The students can observe different types of wetlands from what we have here in the southern US. For example they can experience wetlands that freeze over in the winter," he said.
Laws was not the only Louisianan to receive a Friendship Award at the ceremony. Barry Cathey of Monroe was honored for helping the Chinese aviation industry.
Laws is not the first LSU faculty member to receive an award from the Chinese government. In 2017, President Xi Jinping presented the International Science and Technology Cooperation Award to Earl Ward Plummer, professor of physics and astronomy, for his contribution to the development of science and technology in China.