CNOOC pledges 20% rise in winter gas supply
Share - WeChat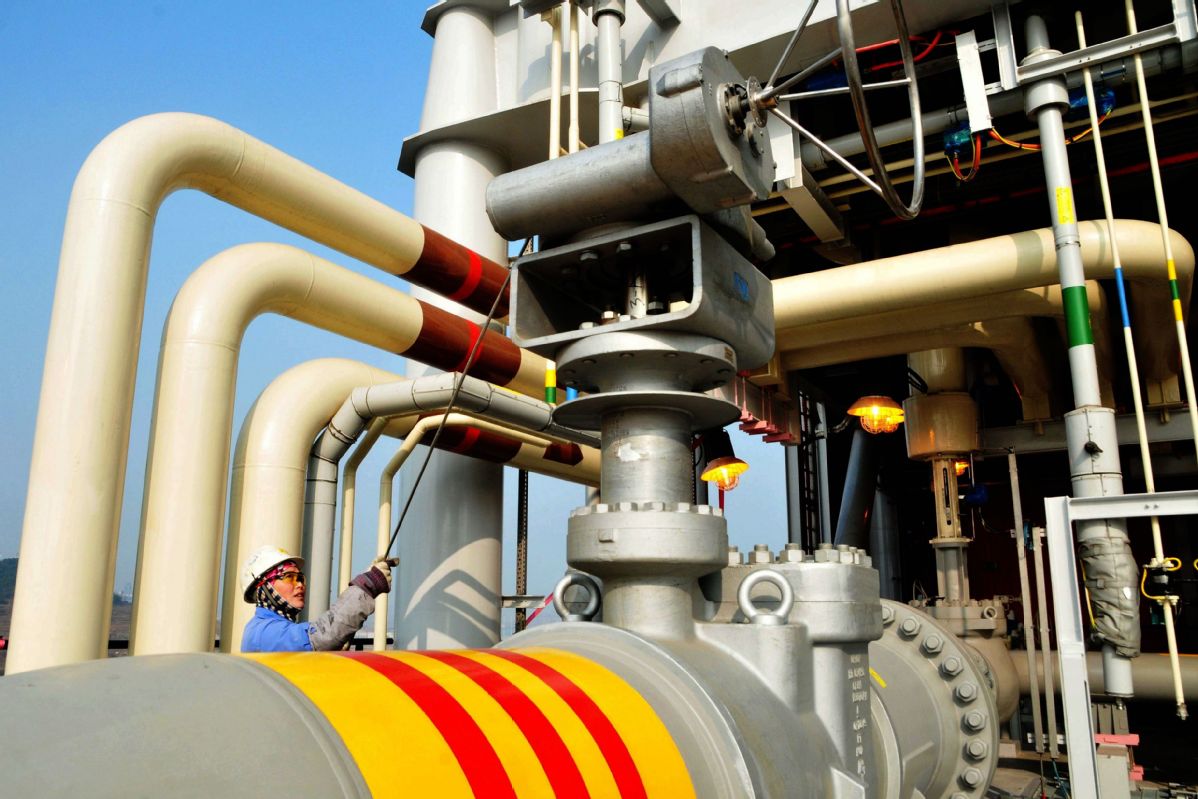 6.1b cubic meters will be supplied to seven northern provinces and municipalities
China National Offshore Oil Corporation said on Tuesday that the company will supply 24.6 billion cubic meters of natural gas during the heating season that kicks off this week, up 20 percent year-on-year, to meet rising demand in the country.
Some 6.1 billion cubic meters of natural gas will be supplied to seven northern provinces and municipalities, up 63.5 percent from last year, the company, which is China's largest producer of offshore oil and gas, said in a statement.
Most of the natural gas the company is supplying this year is offshore, coal bed gas and imported liquefied natural gas. The company has also been negotiating with LNG suppliers worldwide to ensure gas supply, including dealers from Australia, Indonesia, Malaysia, Qatar, Nigeria and Russia, it said.
Oil and gas majors in the country, the world's fastest-growing gas consumer, have been gearing up to ensure gas supply during the upcoming heating season, as China prepares to switch on residential heating systems across the north of the country, when demand for natural gas is expected to increase sharply.
China Petroleum and Chemical Corp, also known as Sinopec and the world's largest refiner by volume, said on Monday it would supply 18.17 billion cu m of natural gas during the heating season, up 17.7 percent year-on-year, with supplies to seven northern province-level regions set to increase by 29.1 percent.
The company has been speeding up the construction and operation of new pipelines in northern regions in addition to increasing its spot purchases of LNG. All of the company's three LNG terminals are expected to run at full capacity.
Analyst said that by learning from past experience, China is better equipped for the upcoming peak season, as ministries, local governments and national oil companies all made contingency plans to deal with extremes and prioritized supplies to the residential sector.
"The chance of a 'cold winter' is quite small this year," said Na Min, a senior analyst for oil and gas at Bloomberg New Energy Finance.
"Suppliers are far better equipped for this winter, with newly commissioned and expanded infrastructure and supply contracts."
"We anticipate Chinese buyers are well-positioned to offset the impact of trade tensions between the United States and China on LNG," she added.
Wang Lu, Asia-Pacific oil and gas analyst at Bloomberg Intelligence, added that China's gas prices will become more market-oriented, allowing supply and demand dynamics to determine prices.