UK Cabinet to consider Brexit draft
Share - WeChat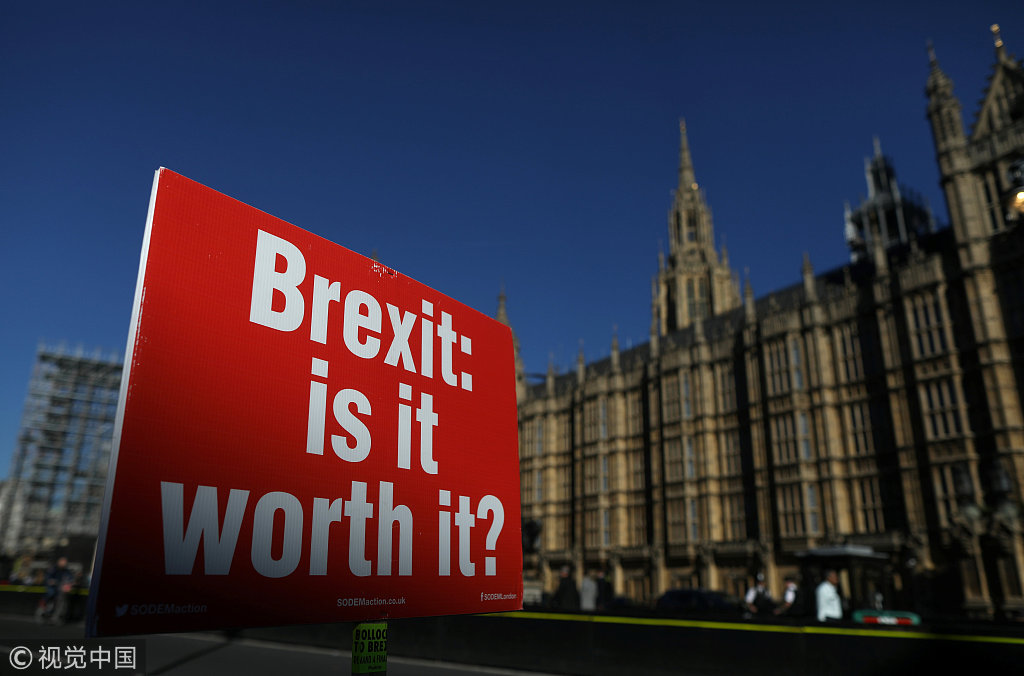 Britain's process of withdrawing from the European Union faces one of its biggest tests since the 2016 referendum with Prime Minister Theresa May presenting on Wednesday a draft agreement to her Cabinet for approval.
Brexit, due to take place on March 29, 2019, has dominated British politics for two years, causing deep divisions across the political and social spectrum, including within May's own Cabinet.
The main sticking point has been the economic status of the post-Brexit border between Northern Ireland-part of the United Kingdom-and EU member state the Republic of Ireland.
On Tuesday a compromise was reached, meaning May had a proposal to put to her Cabinet for approval. Cabinet members were given individual briefings, ahead of a full group discussion on Wednesday.
Professor Alex de Ruyter, director of the Centre for Brexit Studies at Birmingham City University, said it was by no means certain that what was offered would be approved.
"The deal is expected to contain measures to keep a 'temporary customs union' between the entire UK and the EU, to prevent regulatory divergence between Northern Ireland and the rest of the UK," he said.
"An independent arbitration committee would decide if the UK could decide whether to terminate this arrangement, or stay in a customs union. Brexit supporters have already denounced this as a means to keep the UK tied to the EU, and Northern Ireland's Democratic Unionist Party, upon whose support May's government depends, is concerned about Northern Ireland potentially facing new barriers with the rest of the UK," he added.
Kieran Laird, director and head of constitutional affairs at law firm Gowling WLG, said the real drama lies ahead, when and if the proposal made it as far as Parliament-meaning that for businesses, the future is still far from clear.
"What businesses need to know in the short term is whether the UK will have a withdrawal agreement that provides a standstill transition period until the end of 2020 or beyond in order to provide some breathing space until any future trading deal crystallizes," Laird said.
Specifics of the document remain unclear, but even if the Cabinet approves and the agreement can then be signed by other EU states later this month, May faces a major test when she seeks parliamentary approval, where it will face criticism from all sides.
Jacob Rees-Mogg, one of May's loudest critics in the Conservative Party, said it had "surrendered to Brussels and given in to everything they want", while former foreign secretary Boris Johnson called it "just about as bad as it could possibly be".
Given the situation's sensitivity, Brussels has avoided direct comment on the issue, but on Tuesday the European Commission intensified its contingency plans for a no-deal hard Brexit.
"Contingency measures cannot remedy the full effects of this disruption. In the event of a no-deal scenario, these disruptions will be even more significant and the speed of preparations would have to increase significantly," the commission said in a news release.
Bo Leung in London contributed to this story.