Roller-skating grandpas stay active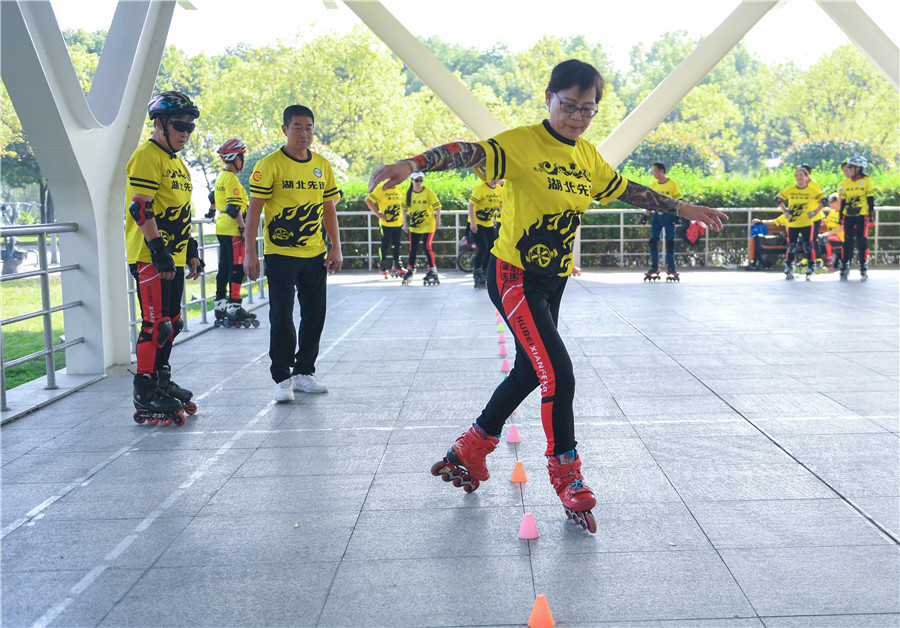 A group of roller-skaters drew people's attention at Hankou Jiangtan Park in Wuhan for their skill, their laughter and for their athleticism despite their advanced age, Chutian Metropolis Daily reported.
The roller-skaters are mostly grandpas, the oldest being 83 years old. People over 60 account for more than 70 percent of the group.
They are members of Hubei Xianfeng Roller-skating club, which has nearly 500 members.
The coach is 61-year-old Teng Yongyue, the only professional coach in Hubei province who has obtained national-level roller-skating certification.
In order to promote the sport and find an appropriate space for practice, he chose Jiantan Park and other places which sees large crowds of people passing by.
"Many members joined us after seeing us practice and thought it was fun," Teng said.
Besides ordinary routines, they practice figure skating on Tuesday, speed skating on Wednesday and relay skating on Thursday.
72-year-old Liu Bichun has been roller-skating for six years. "I didn't have the chance to do this when I was young. Now I can do whatever I like," Liu said.
The grandpas like long-distance roller-skating the most. Teng organized them to do it every once in a while. This past Halloween, they roller-skated from Hankou to Guanggu, about 25 kilometers.
In September, they took part in a game in Erdos, Inner Mongolia autonomous region. Ten people relay skated for 24 hours.
"The trainings are free. I hope more young people can join us," Teng said.
Zhou Lihua and Liu Kun in Wuhan contributed to the story.