Shanghai goes all-in for garbage sorting
Share - WeChat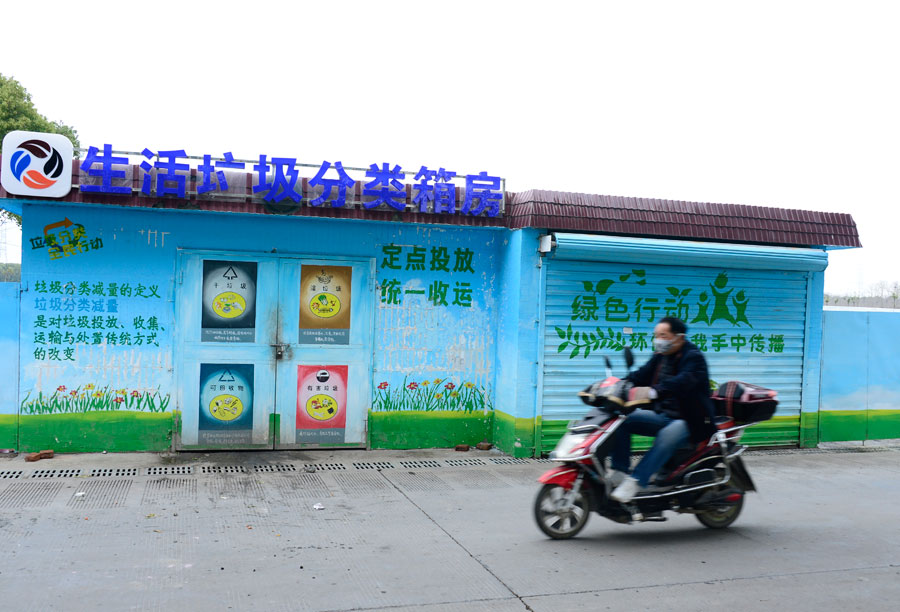 Authorities in Shanghai are asking for opinions from the public until Dec 6 on a draft regulation regarding garbage classification.
The document was submitted to the city's legislative body for a second review last week. The draft aims to regulate all processes related to garbage sorting, including dumping, collection, transportation and treatment. It retained the four categories of garbage classification - dry, wet, recyclable and harmful - which were specified in a plan released earlier by the Shanghai municipal government.
"The draft makes clear the details of garbage sorting management, strengthens supervision regarding this matter and boosts awareness of garbage classification for members of the public," said Ding Wei, director of the Legislative Affairs Commission of the Shanghai Municipal People's Congress.
According to the draft, any individual or working unit will be held responsible for the proper sorting and disposal of garbage they produce. Those who fail to follow the rules can be fined up to 200 yuan ($29) if the offender is an individual, or between 5,000 yuan and 50,000 yuan for an offending work unit.
Each government division has prescribed duties. For instance, the city's administration of landscaping and appearance is in charge of guidance and supervision of the garbage-sorting process, while its development and reform commission is responsible for formulating policies to promote resource recycling and harmless disposal, and for improving the system of charges for household waste disposal.
Further, garbage trucks must be equipped with online monitoring systems and indicate the types of household waste to be transported. Collection and transport units may legally refuse unsorted garbage, and will report the issue.
For green consumption, the revised regulation adds rules to reduce the use of disposable supplies such as paper cups at government offices and institutions, and to encourage the use of recycled paper. No disposable daily necessities - cutlery, for example - should be offered to consumers by hotels, restaurants or other service providers.
A revised draft regulation will be submitted to the Shanghai Municipal People's Congress early next year.
As one of China's pioneer cities in implementing trash sorting, Shanghai published an action plan in March making clear that every residential community in every district would be required to have a trash sorting program by 2020.
The aim is to reduce the volume of dry waste by 15 percent by 2020, while increasing wet waste, mainly kitchen leftovers, which can be reused as compost or fertilizer, by 80 percent. The daily volume of recyclables, including plastic and paper, is also expected to rise by around 70 percent.
"Trash sorting is an important step in achieving proper treatment and effective disposal of solid waste," Liu Chang, deputy chief engineer at the Ministry of Housing and Urban-Rural Development's Environmental Sanitation Engineering Technology Research Center, said in an earlier interview.
Under the plan, the city aims to phase out the burial of dry waste by 2020.