Infusing soul into nation's spirit
Share - WeChat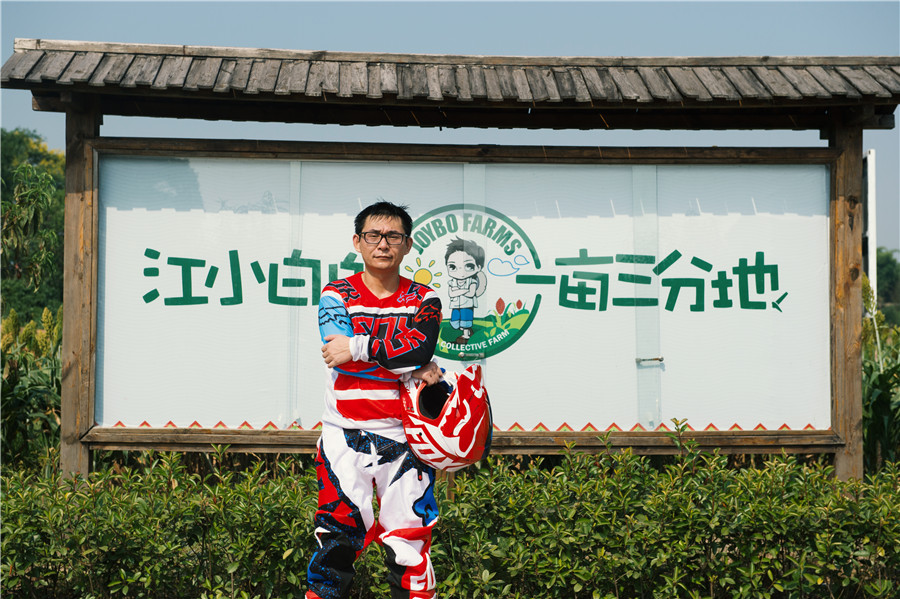 Founder Tao uses loneliness to reimagine baijiu brand Jiangxiaobai's market positioning
Jiangxiaobai is a young baijiu brand but the Chinese spirit label is no stranger to the country's youth as it sponsors music festivals, cultural fairs, street dance competitions or big-ticket shindigs.
The brand's mascot, a young, dynamic and fashionable short-haired boy, exudes the rebel spirit. But Tao Shiquan, founder of the distiller, hardly looks the part, attired as he is in casuals (a plain Polo shirt and blue denim jeans). As if to accentuate the contrast, his demeanor is one of a simple, straightforward guy.
But those who are familiar with him will vouch Tao is indeed a rebel of sorts. He loves modern urban culture, sways to rock 'n' roll music with a head band on, and is a diehard motorcycle racing aficionado, with a certificate from the Ducati Club, one of the world's best-known motorcycle sports fan clubs.
"Every year, I hear negative voices say, 'Oh Jiangxiaobai won't survive for long'. And I always feel quite sad and misunderstood," Tao said. "But loneliness is a good thing for founders, it keeps you thinking."
The outside world's doubts seem to arise from the solid reputation of established baijiu distillers such as Moutai and Yanghe. For long, the latter have been branding themselves as prestigious national drinks for formal occasions - banquets, business dinners, expensive weddings, celebrations...
However, Tao took the road less traveled. He exploited mixology to target the country's young at a time when they were gradually losing interest in baijiu.
"I found two major problems," he said. "First, not a single baijiu brand is considered cool. Second, they don't tickle the young consumer's tastebuds. The young are usually forced to drink baijiu as part of good manners at dinner tables."
Driven by that realization, Jiangxiaobai exploded on China's spirits scene in 2012, debuting in the riverside ancient town of Baisha near Chongqing. It was the maverick in the market that went big on diverse tastes, simple but modern packaging, fashionable branding strategy, lower price and international drinking culture.
Priced at 20 yuan per 100 ml bottle ($2.9), Jiangxiaobai topped 1 billion yuan in annual sales for six consecutive years from 2012 to 2017.
"People told me that young Chinese loved to drink beer. 'Why are you still making baijiu?' they would ask." Asked the same question for the nth time, Tao said: "Baijiu is the only thing I know. I studied it during university, I've been working on it for over a decade, and frankly I don't know any other option apart from baijiu."
To make baijiu easier to drink, Tao tweaked the "recipe" to make it plain and smooth, a drink with a light body and lower alcohol content, suitable for mixing up with soft drinks for imaginative cocktails or mixers.
Being a loyal fan of Chinese rock'n' roll bands like Beyond and Tang Dynasty, Tao championed their cause, in the process injecting a youthful musical gene into the Jiangxiaobai brand.
Sponsorship of a couple of rock 'n' roll nights held at the company's bar ensued. From then on, the logo of Jiangxiaobai has been a common sight at music carnivals in major cities.
Jiangxiaobai's marketing strategy was based on the idea that the branded spirit was "a small drink for youth". In one of its well-known moves, the company encouraged customers to write down their messages and thoughts about youth - about life, love, secret or unexpressed affection for someone. Then, it printed them on Jiangxiaobai bottles.
Given its association with youth, Jiangxiaobai allows a young team to drive it so its marketing could stay innovative and appeal to the targeted demographics, Tao said. A large part of his team were born after the 1990s, with some after 1995. "Unlike in other corporations, the young kids are allowed to 'talk back' to me if they hold different opinions."
Jiangxiaobai the brand receives frequent media coverage. Its expansion from Southwest China to the whole country has been rapid since last year. But Tao himself has remained remarkably media-shy, swearing by his philosophy that the company's development strategy should be low-profile, like a crawling turtle.
"I don't think I have been good enough. That's why, I don't usually show up at news conferences," he said.
"I think, for the baijiu industry, which is a very traditional business, we need to take it slow, make it low-key and discover the new possibilities little by little - like a turtle. For Jiangxiaobai, there will be at least 10 years ahead to explore where we are going."
Now, Jiangxiaobai's coverage area includes half of the national market. Tao's next target is 90 percent of the market.
Yan Yiteng, partner at IDG Capital, an investor in Jiangxiaobai, said: "What I value mostly is that Jiangxiaobai is a product with a soul. It has unique market positioning.
"For products like this, it requires the founder to have a long-term vision and a strong team. Baijiu may be aging, but fresh demand from young consumers is emerging."