Airbus, China Mobile to work on in-flight Wi-Fi
Share - WeChat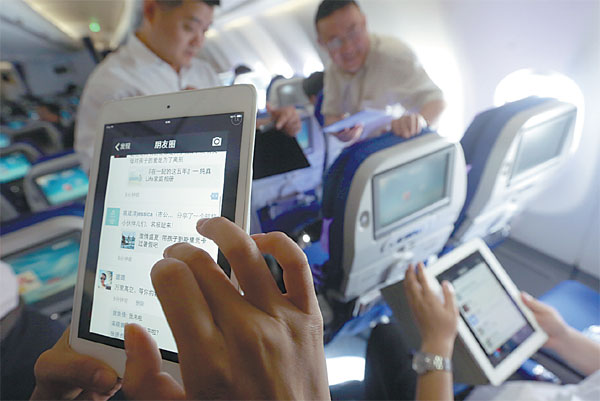 The Shenzhen-based Airbus China Innovation Center has signed an agreement with China Mobile Intelligent Mobility Network Technology Co to co-develop in-flight Wi-Fi services, fueled by the growing demand for greater in-air connectivity.
"The cooperation will develop an end-to-end solution and create new in-flight high-speed connectivity, leveraging the favorable policy on the use of portable electronic devices on board and the upcoming 5G technology," said Luo Gang, CEO of the Airbus China Innovation Center.
The Airbus and China Mobile subsidiaries did not disclose further details.
In January, the Civil Aviation Administration of China lifted curbs on the use of mobile devices on domestic flights. Passengers can now use mobile phones, tablets and laptops during the entire flight, as long as they have airplane mode switched on.
The in-flight Wi-Fi market in China is expected to enter a rapid growth period in the next few years. Most domestic routes are yet to be equipped with Wi-Fi services, due to technology and cost limitations.
Opening last year, Airbus' Shenzhen innovation center is its first such facility in Asia, and its second globally after the one in Silicon Valley. China Mobile Intelligent Mobility Network was launched in June. The company will focus on the transportation industry and 5G, and deepen its R&D in smart transportation fields, including automated driving and in-flight connectivity.
Currently, in-flight Wi-Fi mostly relies on the Ku band signal channel, which makes it susceptible to instability during flights.
The latest high-speed in-flight Wi-Fi operates on the Ka band, meaning the internet speed will be much faster than the currently available options. Both technologies rely on satellites, which restrict them to satellite orbit resources, making them more expensive than air-to-ground communications.
"Another approach to in-flight Wi-Fi connectivity depends on air-to-ground communications-a ground-based channel. Air-to-ground connections send signals to planes from on-ground signal towers, instead of from satellites directly as L band and Ku band do. The resources of on-ground signal towers are richer and more stable, and relatively easier to build," said Xiang Ligang, CEO of telecom industry website Cctime.