Platform's students focus on innovative, practical uses of tech
Share - WeChat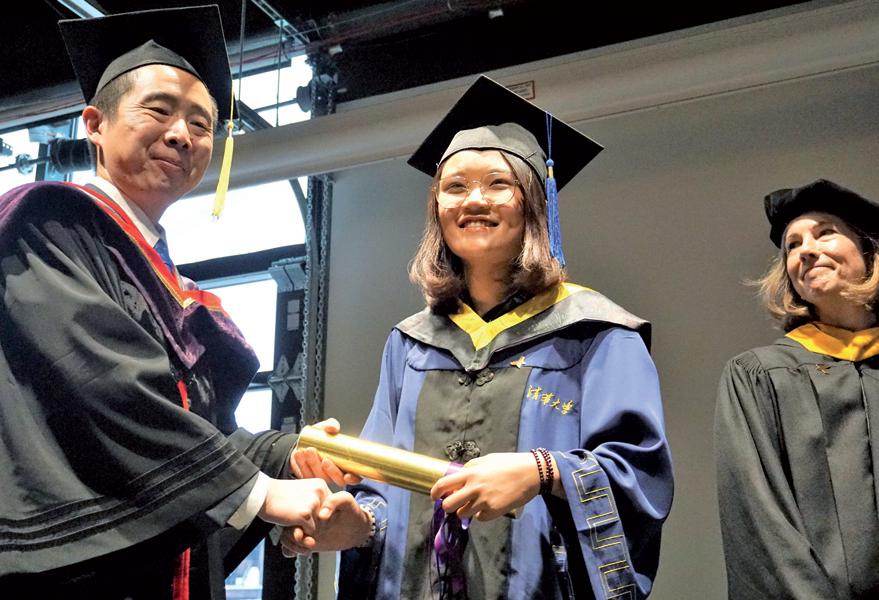 A day before her graduation, Linzi Xu, a 24-year-old graduate student from China at the Global Innovation Exchange (GIX), was busy displaying her final school project — a travel app.
The project was sponsored by aircraft maker Boeing Co, which is aiming to improve the experiences of new international travelers.
"For example, with the new app, when the traveler gets to the airport, they will be notified which counter they should go to, to check in, and the time estimate for the whole process," Xu said.
Xu is among 37 GIX graduate students from 11 countries who make up the first generation of GIX, a school that has a campus in Bellevue, Washington, and describes itself as "a global development technology platform for innovations and insights". It was co-founded by Tsinghua University in Beijing, the University of Washington in Seattle and Microsoft Corp.
Nine other project teams collaborated with GIX's industry partners over the past five months.
The teams designed high-tech solutions that ranged from a device for farmers that interprets chicken vocalizations to identify when they're in distress, to an educational app that helps parents remotely customize their children's learning.
One team of students created an augmented-reality app highlighting the capabilities and benefits of a 5G network. Another developed a way to use blockchain technology to quickly protect online content from copyright theft.
At the end of the program, GIX graduate students earn either a master of science degree in technology innovation (MSTI) or a dual degree from Tsinghua University and the University of Washington.
Benjamin Keller, 24, a graduate student from Sammamish, a city 20 miles east of Seattle, is in the 21-month GIX dual degree program. He will go to Tsinghua University next spring for the program's final six months of study.
With a background in physics and global development, Keller said he is excited to go to Tsinghua not only because of the resources and faculty availability offered by the university, but also because China wants to be a player when it comes to solving global issues such as food security and energy.
Before graduation, some students already were winners in technology competitions around the world.
Last spring, a team of GIX students were finalists in the $1 Million Women's XPRIZE Safety Competition. They designed a wearable sensor device that triggers location-specific wireless alerts in emergency situations as a way to address issues of sexual harassment and violence against women.
Others included the Singapore Airlines AppChallenge, the 2018 SONOS Challenge, the GIX Innovation Competition and the 2018 UW Maker Summit. One team's research paper was accepted into the prestigious IEEE UEM Conference.
"We are excited to celebrate the milestone of GIX's first graduating class," said Vikram Jandhyala, co-executive director of GIX and UW vice-president for innovation strategy. "Through the interdisciplinary, project-based GIX learning model, our graduates are equipped with the entrepreneurial mindset that's essential to succeed in the innovation economy."
"GIX is the first education and research outreach that Tsinghua University has set up overseas and also the first physical presence of Chinese universities in the United States," Yong Qiu, president of Tsinghua University, said at the ceremony.
"It breaks new ground for international collaboration in higher education, with innovative education approaches featuring the three I's: international, interdisciplinary and integration," Qiu said.
"When we first traveled to Beijing to meet Tsinghua University (faculty) five years ago, we didn't imagine the day when the first graduates would cross this stage to get their diploma," said Brad Smith, president and chief legal officer of Microsoft.
"We would be doing so on a day when people were talking about tariffs and critical trade negotiations. But precisely because the days are more challenging and the relationship is so important, endeavors like this are in fact so vital," he said.
Contact the writer at lindadeng@chinadailyusa.com