Palace Museum cosmetics achieving attractive sales
Share - WeChat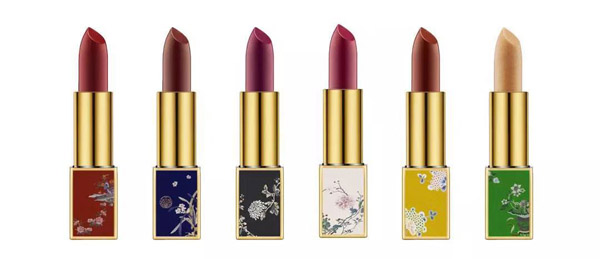 By Wednesday, or "double twelve"-promoted as an online shopping day in China-netizens had turned a new, limited edition set of lipsticks into a hot item after presales were authorized by Beijing's Palace Museum.
The cosmetics staple with a royal twist was put on the virtual sales counter on Sunday at Palace Museum Cultural Creativity, the museum store on its public account on the WeChat social network. In the following days its popularity had exploded in cyberspace.
The cases of the set of six lipsticks were printed using 3D technology and combine auspicious patterns and colors from embroidery once owned by queens and concubines, taken from the museum's collections. The patterns include cranes, butterflies, deer, and blossoms and reflect traditional Chinese aesthetics. Each tube of lipstick sells for 199 yuan ($28.90).
The Palace Museum, also known as the Forbidden City, was China's imperial palace from 1420 to 1911. It houses 1.86 million cultural relics that offer virtually endless inspiration for developing souvenirs with cultural themes.
The museum has indicated its intention to step into cosmetics for some time, generating lots of anticipation among fans of traditional culture.
Samples were shown at the eighth International Exposition of Museums and Relevant Products in Fuzhou, capital of Fujian province, in November. Still, the expo, mostly for museum industry professionals, did not create too much of a buzz. Those who order the item online will have to wait until January for delivery. While cosmetics opinion leaders online have shown great interest in the new product, feedback will require patience.
On Taobao.com, another major shopping platform, the Palace Museum Taobao store released its own series of cosmetics, including eye shadow and rouge, on Wednesday. The decorations of the cosmetics' cases were inspired by furniture, paintings and patterns from different cultural relics housed at the museum.
Most Popular