Beijing confirms 2 Canadians under probe
Share - WeChat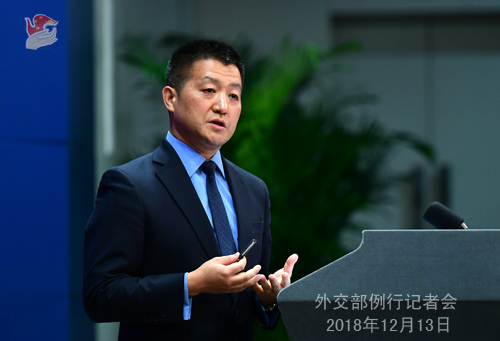 Beijing confirmed on Thursday that two Canadians who are suspected of engaging in activities endangering national security have been placed under compulsory measures in accordance with Chinese laws.
Speaking at a regular news conference, Foreign Ministry spokesman Lu Kang said the two Canadians are under investigation, respectively, by national security authorities in Beijing and Dandong, Liaoning province.
Lu was speaking in response to a question about the disappearance of Canadian former diplomat Michael Kovrig and a Canadian businessman, Michael Spavor.
The Canadian embassy was promptly informed about the cases, and the legitimate rights and interests of the two Canadians are being safeguarded, Lu said. The compulsory measures put upon the Canadians started on Monday, Lu added..
Kovrig was reported to work for the International Crisis Group and Spavor was said to operate a tourist company in Dandong, Liaoning province.
When asked whether the compulsory measures imposed on the Canadians were related to the arrest in Vancouver of Huawei Chief Financial Officer Meng Wanzhou on Dec 1 at the request of Washington, Lu said authorities' handling of the two cases is in accord with China's Criminal Law and Criminal Procedure Law. Lu demanded that Canada correct its wrongdoing and release her immediately.
Meng, 46, has been granted bail in Canada, but she is confined to Vancouver and its suburbs. Her extradition to the US for alleged Iran sanctions-breaking dealings remains a possibility.
Lu addressed what has been called concerns over Canadians' security in China, saying China welcomes foreigners to travel, study and do business in the country, and no worry is justified as long as they abide by Chinese laws and regulations.
Over 780,000 trips to China by Canadians took place between January and November, and the Canadian people will arrive at a conclusion about whether China is safe or not, he said.