Fuel cell cars championed as eco option
Share - WeChat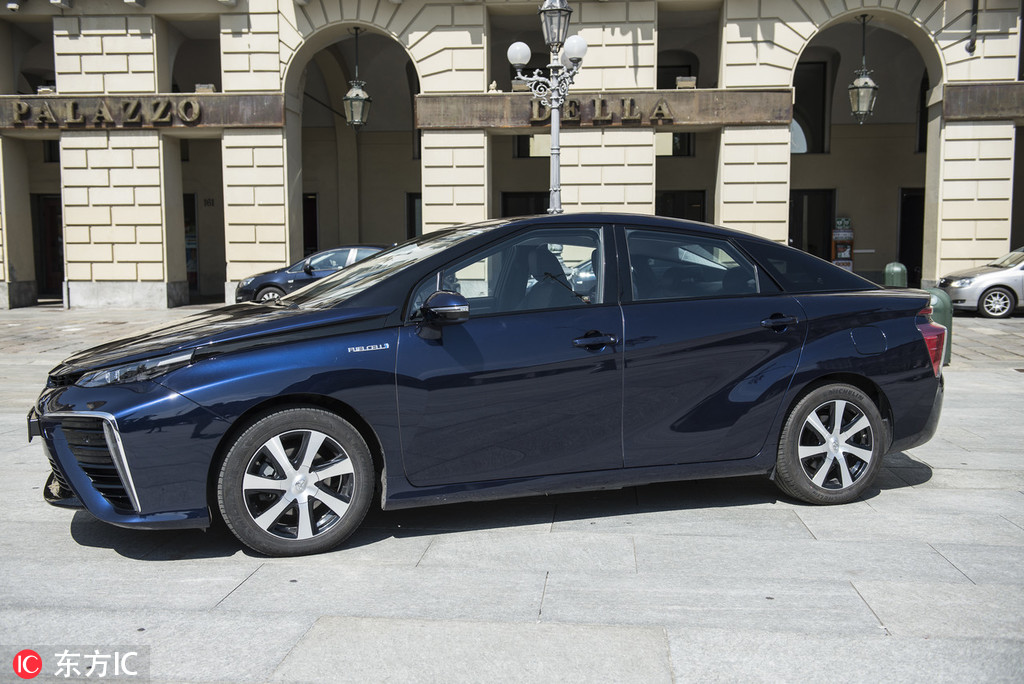 Official notes the vehicles have zero emissions, are long-range, quick to refuel
China should make fuel cell vehicles a highlight of its new energy vehicle campaign, which currently consists primarily of battery electric vehicles and plug-in hybrids, according to a senior official.
"FCVs should be included as a new focus, as they boast such features as zero emissions, long driving ranges and short refueling times," said Wan Gang, vice-chairman of the National Committee of the Chinese People's Political Consultative Conference, in an article in the People's Daily on Saturday.
For traction, FCVs mix hydrogen and oxygen, stored in cells on board, to power an electric motor. This makes each vehicle extremely eco-friendly-no pollution and the only by-product is water. A typical fuel cell bus, like the Mirai developed by Toyota Motor Corp, can run up to 650 kilometers and takes three minutes to get refilled.
Such vehicles can complement electric cars, which have shorter ranges and longer charging times, and thus cannot fully meet demand for long-haul transportation, wrote Wan, former minister of science and technology and a leading expert in the country's new energy vehicle program.
China has been the world's largest new energy vehicle market since it overtook the United States in 2015. In the first 11 months this year, sales of these green vehicles reached 1.03 million in the country, primarily composed of electric vehicles.
"Now we should step up our efforts in our studies on FCVs to make major breakthroughs in core technologies, fundamental materials and key components," argued Wan.
Globally, FCVs are still at an early stage of development, a niche choice due to technical hurdles, high prices, and a lack of infrastructure. Commercial FCVs started to be used around 2010, while passenger cars did not hit the market until around 2014.
In all, China had around 1,200 FCVs on its roads, and less than 20 hydrogen fuel stations by the end of 2017, ranking behind the United States, Japan and South Korea, according to the International Hydrogen Fuel Cell Association.
The Chinese government has set a goal to have 5,000 such vehicles on its roads by 2020, 50,000 by 2025 and 1 million by 2030.
Wang Ju, deputy secretary-general of the International Hydrogen Fuel Cell Association, said China's vast automotive market and its experience from developing and promoting electric vehicles will prove to be advantages in the new sector.
China's SAIC Motor Corp Ltd has seen the fleet of its fuel-cell buses start commercial operation in Shanghai earlier this year.
Great Wall Motor Corp Ltd, the first Chinese member of the Hydrogen Council, said its premium brand Wey will release its first FCV in 2020 and start mass production in 2022.
They will face stiff competition from South Korean and Japanese carmakers. Last week, Hyundai Motor Group announced plans to invest $6.75 billion in hydrogen fuel cell technology, allowing it to produce 500,000 FCVs annually by 2030.
It expects global FCVs to expand to around 2 million vehicles a year within the same timeframe.
Toyota is a strong advocate of FCVs as well, and plans to follow up on its Mirai model with a range of SUVs, pickup trucks, and commercial trucks beginning around 2025, according to Reuters.