China, Japan face bumpy road despite détente
Share - WeChat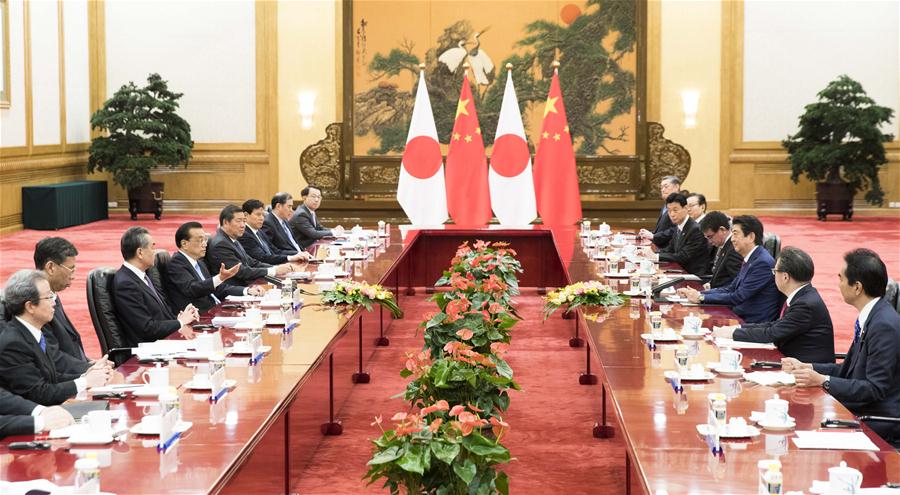 This year marks the 40th anniversary of the China-Japan Treaty of Peace and Friendship, as also the thawing of Sino-Japanese relations after eight long years. The visits of Premier Li Keqiang to Japan and Japanese Prime Minister Shinzo Abe's subsequent visit to China helped bilateral ties to get back on track.
But despite the welcome changes, Sino-Japanese relations have a bumpy road ahead.
Sino-Japanese relations began deteriorating in 2010, reaching their lowest point when Japan "nationalized" the Diaoyu Islands in 2012. In spite of the tensions, however, the two sides appeared willing to improve bilateral relations.
The rapprochement between the two sides is reflected in bilateral agreements and memorandums of understanding signed during Li's visit to Japan in May and Abe's visit to China in October. The two sides inked dozens of deals on service trade, market cooperation, infrastructure building, finance and the internet.
Although the agreements and MOUs will have a positive influence on Sino-Japanese collaboration and regional peace and development, the East China Sea dispute will remain a big concern for both countries. During Li's Japan visit, both sides agreed to honor the 2008 consensus on joint exploration of gas in the East China Sea and planned to resume talks on the issue; they re-affirmed their commitment during Abe's visit to China.
But instead of taking measures to strengthen communication and coordination in order to resolve the East China Sea issue, Japan has sent out the wrong signal through the new defense guideline it released on Tuesday, which shows its military ambition and desperation to become a "normal country". Citing the need to counter potential threats from China and the Democratic People's Republic of Korea, Japan plans to convert its existing helicopter carrier into an aircraft carrier that can deploy F-35B stealth fighters, and to greatly increase its defense budget.
Such a move will inject uncertainty into the East China Sea dispute, cast a shadow on the hard-won rapprochement and prompt the two sides to view each other's military and maritime strategy with greater suspicion.
There is still a lot of work to be done to preserve the achievements the two sides have made this year despite the complicated situation.
First, the two sides should make greater efforts to understand each other's common concerns and appeals, and the sooner they learn to do so the better. They should also make sincere and concerted efforts to finalize and ink an agreement on cooperation on search and rescue operations, particularly to strengthen communication between their defense and maritime law enforcement personnel. Moreover, they should make efforts to jointly explore the East China Sea for resources so as to enhance maritime cooperation and help to eventually settle bilateral maritime disputes.
Second, after holding the first China-Japan third-party market cooperation forum in October, where 52 MOUs in numerous fields were signed, the two sides should now cooperate to put the MOUs into practice, especially through the Belt and Road Initiative whose basic characteristics Japan finds attractive. In this sense, Japan's participation in the Belt and Road Forum for International Cooperation in Beijing last year and the China International Import Expo earlier this year are positive signs and conducive to establishing cooperation in different fields.
While it is imperative to keep an eye on Japan's maritime moves, China should also strengthen economic cooperation with its neighbor, as it is vital for the two sides as well as the global economy at a time when rising protectionism and unilateralism threaten global free trade.
In particular, Beijing and Tokyo should seize every opportunity for cooperation next year. For example, China could extend support to Japan to host the 2019 G20 Summit in Osaka and the Tokyo 2020 Olympic Games, and Japan could support China in hosting the Beijing 2022 Winter Olympics. The two sides can also strengthen bilateral ties by deepening cooperation in financing and intellectual property rights protection.
The author is head of Japan Research Center, Shanghai Academy of Social Sciences.
Most Viewed in 24 Hours
China Views