Uniforms with GPS trackers keep kids under surveillance
Share - WeChat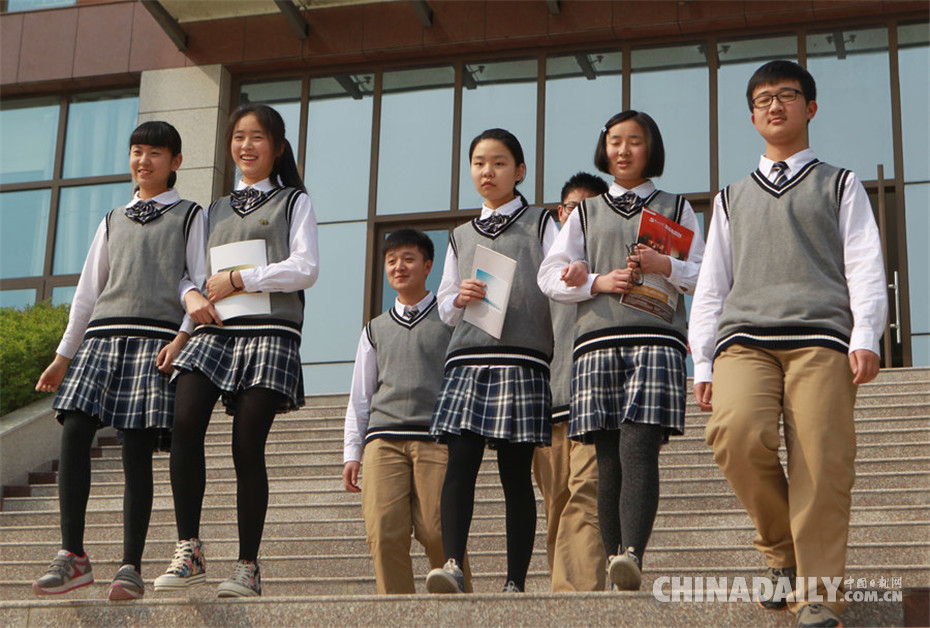 Schools in Guizhou province and the Guangxi Zhuang autonomous region are using "smart uniforms" embedded with GPS trackers to make sure students do not skip class and to assure parents of their children's attendance and safety.
Nine schools in Guizhou and two in Guangxi have introduced the uniforms, which were developed by Guiyang-based tech firm Guizhou Guanyu Technology.
The company said in a statement that when students enter the school, the time and date is recorded along with a short video that parents can access via a mobile app.
Facial recognition further ensures that each uniform is worn by its rightful owner to prevent students from cheating the system. Skipping classes triggers an alarm to inform teachers and parents of the truancy, while an automatic voice alarm activates if a student walks out of school without permission, it said.
Wang Ping, head of the labor union at Xiuwen High School at Xiuwen county in Guizhou, said more than 1,000 first-grade students in the school have begun to wear the uniform for more than a month.
Each student has four uniforms, two for summer and two for winter. The uniforms cost 320 yuan ($47) in total, about the same price as common uniforms, Wang told China Daily in a phone interview.
When students enter the school, classrooms or dormitories, the system can showcase the students' information, including name, photo and class to the school staff and send the time and date to parents' mobile phones, he said.
Zhao Shengyong, father of a first-grade student in Xiuwen High School, said he is happy with the uniform's monitoring function.
"The school is a boarding school, so it is hard for me to parent my son at home. This uniform can put some pressure on him and let him know that I will be notified if he skips classes," he said. "It is hard to parent a teenager, and I need all the help I can get."
Li Daguo, the company's legal representative, said only parents and teachers can access the information recorded by the uniforms. He added that the company is committed to protecting students' privacy. "The smart uniform does not track students' every single move all the time," he said.
But Chu Zhaohui, a senior researcher at the National Institute of Education Sciences, said monitoring students' behavior at young age may harm their psychological health.
"When one feels monitored, they will behave differently and act against their own will, which may induce more rebellious behavior," he said.
When parents put their own wishes before their children's, the children will lose the ability to make decisions for themselves, he added.