Cui: China-US relations a success story
Share - WeChat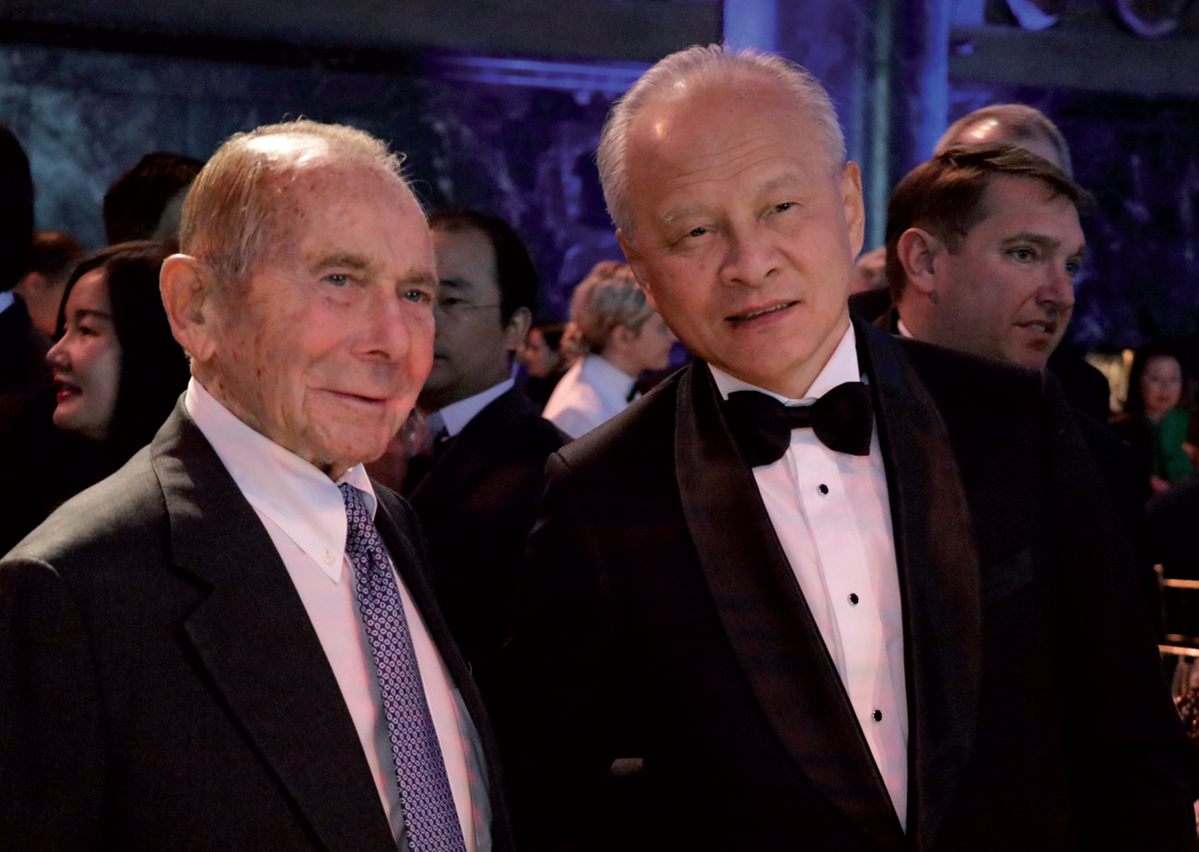 As China and the United States enter the 40th year of their diplomatic relationship, China remains committed to expanding cooperation, managing differences and developing its ties with the US, China's ambassador to the US told a business gathering on Monday.
"The world and our two countries are not the same as 40 years ago, and our relations have to evolve with the times, but all this only underscores the needs for closer China-US cooperation," Ambassador Cui Tiankai said during the Chinese Lunar New Year Gala hosted by the China General Chamber of Commerce-USA (CGCC).
Over the past 40 years, the development of China-US relations as well as China's reform and opening-up process are success stories shared by both countries and have benefited both nations and the world, Cui said.
He reiterated that China would continue to develop a strong and stable relationship with the US on the basis of mutual benefit, mutual respect, closer coordination and cooperation, and greater stability.
The business communities of both countries, he noted, serve important roles in facilitating the economic and trade relationship as well as people-to-people ties between the two countries. He encouraged them to continue such commitment.
The ambassador suggested that the business community from both sides keep the big picture in mind, to remain open-minded and to have a clear stance on what is right and wrong.
"Because today we are living in a world with greater capability and higher stakes, we have even more urgent needs to have a broad perspective and keep a long-term view," Cui said, adding that there is "even greater need to have a strong sense of justice and responsibility" and to keep in mind the real needs of the people.
Cui's remarks were echoed by business leaders from both sides, who stressed the importance of a stable China-US relationship and cooperation between business communities.
"More important than our own company was the relationship between US and China," said Maurice Greenberg, chairman, and CEO of insurance giant Starr Companies, which recently celebrated its 100th anniversary in Shanghai, something Greenberg said he was proud of.
The company was the first foreign company to get a wholly owned life insurance license in China, in 1992.
While the China-US relationship has experienced some ups and downs, Greenberg, who was awarded Goodwill Ambassador for China-US Exchange by CGCC, said he was "confident that the downs would disappear".
Also awarded on Monday night was Wang Xiangming, president of China State Construction Engineering Corp, who received the International Leadership Award and stressed that the company would further commit to building an open and cooperative business environment between the two countries.
"Despite US-China trade and economic frictions of the last year, our presence here today is a cherishable gesture and token of hope," said Xu Chen, president, and CEO of Bank of China USA and chairman of the CGCC.
In 2018, the Chinese members of CGCC, which has a total of 1,500 members, invested more than $120 billion in the states, providing more than 200,000 jobs.
One of those investments made by Chinese companies, Shandong Yuhuang's $1.85 billion greenfield investment in subsidiary YCI Methanol One LLC in Louisiana, was recognized by CGCC on Monday night as the Outstanding FDI Partnership.
"My advice is never to give up, never give in, have confidence in openness, (and) have confidence in your pursuit for win-win cooperation," Cui told the Chinese companies.