Int'l retail giants go digital to woo consumers
Share - WeChat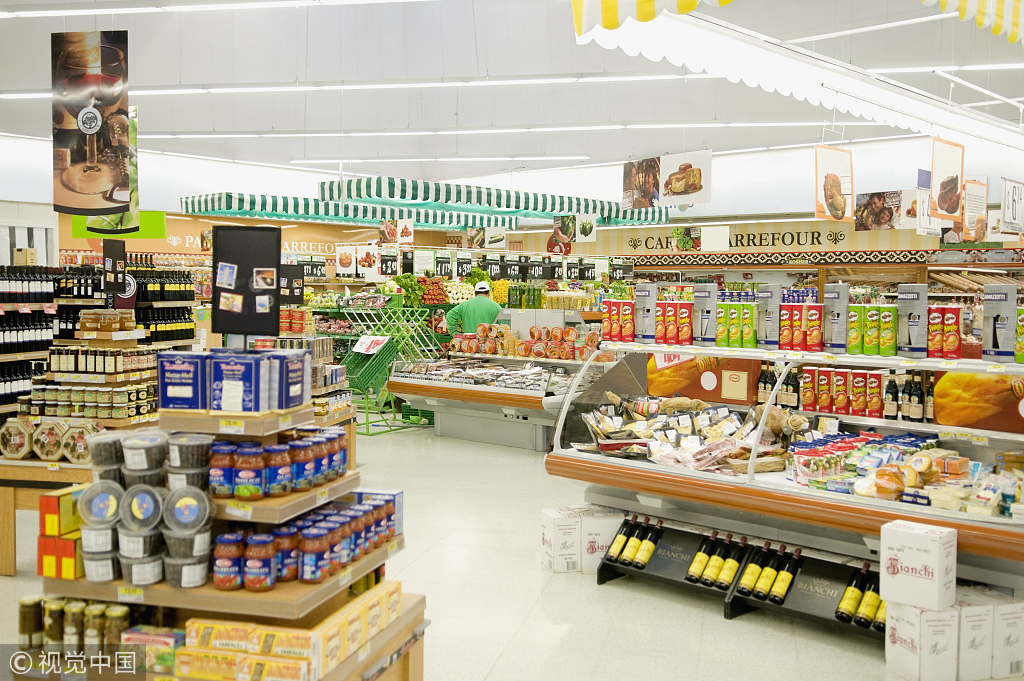 SHANGHAI - As the 2019 Chinese Lunar New Year draws near, retail giants like Carrefour and Walmart have accelerated their pace of digitalization offering more shopper-friendly services to prepare for the shopping spree.
At a Carrefour supermarket in Shanghai's Changning District, shoppers can use a Wechat mini-app "Scan and Go" on their cell-phones to scan barcodes on groceries and pay the bills. There is no queuing at the checkout.
The market also provides guide robots, smart carts, and scan-to-pay smart screens to improve the efficiency of shopping.
"The penetration rate of mobile payment in Carrefour stores in China has surpassed 50 percent, and the rate of smart cashiers has reached 38 percent," said Nathalie Yu, vice-president of Carrefour China.
China's vast and fast-changing consumer market has driven retail companies to innovate. Carrefour has worked with China's internet giants of Meituan, JD and Ele.me in its digitalization of retail service and logistics, said Yu.
Carrefour's home-delivery service expanded with a year-on-year growth rate of 293 percent in 2018.
Digitalization helped Carrefour get in on China's online Singles' Day shopping bonanza on Nov. 11, 2018, when it made over 120,000 home-delivery orders. One of its outlets set a record of over 3,000 home-delivery orders on that day.
U.S.-based retail giant Walmart has sped up its digitalization in the China market, said Ben Hassing, senior vice president of e-commerce and technology, Walmart China.
The "Scan and Go" service has been implemented in Walmart's 350 supermarkets across China, and the company has launched a new online-map for customers to locate goods faster and easier, he said.
"We will upgrade our supermarkets in a more digital and smart way, to provide better and more innovative solutions. We will also strengthen cooperation with more technology companies," said Hassing.
According to the 42nd China Statistical Report on Internet Development, as of June 2018, there were 802 million internet users in China, 98 percent of them being mobile internet users.
Online and offline shopping channels have become more and more integrated. There are three trends in the retail industry: more technology-driven innovation, faster business model changes, and more internationalization in retail, said Michael Mao, a partner and advisor for digital and consumer industry with KPMG.
Global sports goods retailer Decathlon has established a partnership with Instant Shopping, a fast delivery arm of the Chinese internet firm Meituan.
Decathlon said it offers over 100 varieties of goods from fitness and skiing categories for fast delivery service. Customers in Beijing can enjoy home delivery in as fast as 30 minutes.