Economic work will focus on investment and growth
Share - WeChat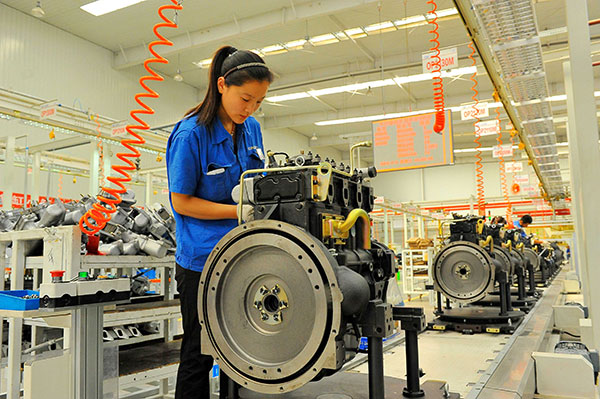 In accordance with the Communist Party of China Central Committee's focus on economic work, the Central Economic Work Conference in December focused on five major aspects of the economy.
First, the CEWC indicated macro policy in 2019 will be relatively loose compared with last year, and fiscal policy arrangements will be made in relation to financial debt and deficit. It said monetary policy in the first half of 2018 was steady and neutral but, deleting neutral, it used only "steady" to describe monetary policy for 2019.
Last year, the central bank reduced the reserve requirement ratio four times and, apart from introducing financial credit control tools, it also released liquidity of up to 6 trillion yuan ($884.15 billion). Macro policy will follow the same path this year, as such a policy is expected to boost the economy in times of continuing downturn.
Second, to a certain extent, the volume of investment would determine the momentum of economic growth in 2019. Last year, there were many arguments on the economic growth momentum, but we now have basically reached a consensus on the issue.
The Sino-US trade frictions have affected foreign trade. And consumption alone cannot be expected to drive economic growth, especially because of the economic downturn and declining growth in people's incomes. So on the investment front, more attention should be paid to areas such as commercialization of 5G technology, infrastructure of internet of things, intercity railways, and urban infrastructure.
Besides, financial system-related problems have impeded investment and delayed or stopped construction projects despite there being actual demand. Unstable cash flow is seen as the biggest impediment to infrastructure construction, particularly because the sector requires massive amounts of capital in the long run. Many investment projects nowadays require long-term injection of funds, and some of them can make profits, say, only after four decades. And since the financial system has always focused on short-term returns, it may not be able to finance such projects.
In my opinion, maturity mismatch has become a major, even principal, problem for the financial system.
That's why the CEWC focused more on investment, and authorities are making concerted efforts to establish an effective investment and financing mechanism to support large-scale and long-term infrastructure construction.
Third, the deleveraging policy has undergone a big change in the past year. Initially, deleveraging was considered a major problem and different departments took different measures to solve it. But now that deleveraging overlaps with some other economic problems and could lead to financial risks, all-round deleveraging has changed to structural deleveraging.
The CEWC also decided to use macro policy for structural deleveraging, reconfirming that deleveraging is the best way to prevent, and resolve financial risks.
Fourth, the CEWC decided to further promote competition policy this year. Competition policy, in general, ensures that competition is not restricted or undermined in ways that are harmful to the economy or society. It is predicated on the concept that competitive markets are vital to investment, efficiency, innovation and growth. Which means State-owned enterprises, private enterprises and foreign enterprises should get equal treatment when it comes to business operations, taxation, debt and administrative management.
In fact, fair use of resources and equal competition has been in focus since the Third Plenary Session of the 18th CPC Central Committee in November 2013. And the added emphasis on competition policy shows China has taken a huge step forward in socialist market economy reform, which is also an apt response to those foreign elements that claim China is a non-market economy.
And fifth, the CEWC has decided to build a standard, transparent, open, vigorous and resilient capital market, which is in accordance with its emphasis on investment. After all, it is necessary to provide enough and long-term financing for enterprises, because steady economic growth depends on investment.
The author is a senior researcher at Chinese Academy of Social Sciences. This is an excerpt of his speech delivered at a recent seminar on macro economy held by Chinese Academy of Social Sciences.
Most Viewed in 24 Hours
China Views