Large foreign funds outflow not possible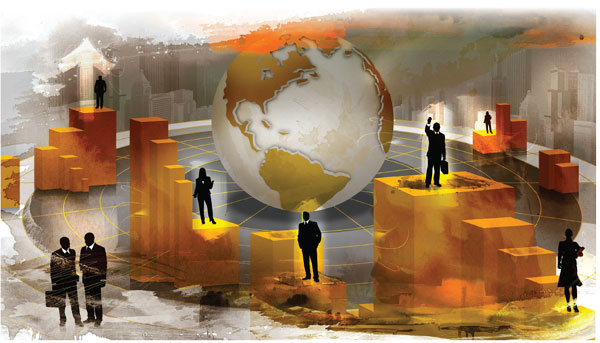 Editor's Note: Will the escalating Sino-US trade conflict force foreign enterprises to relocate their businesses outside China? Two experts share their views on the issue with China Daily's Yao Yuxin. Excerpts follow:
Many US firms can't afford to lose China's market
The recent layoff of Chinese researchers at Oracle, a US software company, cannot be regarded as a typical outcome of the Sino-US trade conflict. Some multinational companies make such decisions to reduce their research and development costs or to adjust their research strategy.
Oracle was a leader in traditional information technology that involved data storage. But thanks to the advent of cloud computing services, it has lost its place to US rivals such as Google and Amazon, and Chinese internet giants like Alibaba and Tencent.
With China's economic growth, foreign companies are not only facing increasingly severe competition from Chinese companies but also could lose their competitive edge to their Chinese competitors. Also, due to the lack of insight into the domestic market and inability to cater to domestic consumers, some successful Western business models have failed in China. For example, in April Amazon announced that it would close its main e-commerce business in China in July-and only its Global Selling and Kindle e-readers would be available-because it could not compete with its Chinese competitors for want of an effective strategy.
And although the Sino-US trade dispute may block some foreign investment in the Chinese market leading to a decline in bilateral exchanges, many US enterprises cannot bear the cost of losing the Chinese market, because, for example, General Motors sold more cars in China than in the US last year. So some US enterprises may move their production units to other countries to avoid paying higher tariffs on the products they export to the US but may not break all links with China or stop selling goods in the expanding Chinese market.
True, some labor-intensive manufacturing enterprises have relocated to other countries over the past few years, but they have done so due to rising labor costs in China, not because of the Sino-US trade dispute. Which may not be a bad thing for China given the stage of development it is in, as it would help upgrade its labor-intensive industries and prompt domestic enterprises to use innovation to bolster their competitive strength.
Moreover, overall foreign investment in China has been rising. In 2018, China received foreign investment worth $134.97 billion, up 3 percent year-on-year. Also, 60,533 new foreign enterprises were established last year, a 69.8 percent increase year-on-year.
Still, measures should be taken to avoid abrupt and massive outflow of funds within a short time even if the chances of such an eventuality are low.
Since the nature of capital is to seek the highest source of revenue, the rising costs of labor in China could explain why some US enterprises have heeded the White House's call to return to the US. But companies such as Foxconn, the world's largest contract electronics manufacturer and a major supplier to Apple that is building a new factory in Wisconsin, are finding it very difficult to operate in the US right now.
Song Hong, deputy director of the Institute of World Economics and Politics, Chinese Academy of Social Sciences
Further reform, opening-up to help China realize its goals
Irrespective of whether China and the US reach a deal, the trade conflict will create a lot of uncertainties which the global economy has to face for a long time.
Some enterprises may relocate their businesses outside of China to minimize the impact of the tariff hikes. But given China's huge market of more than 1.3 billion consumers, the majority of foreign enterprises are likely to stay and operate in China.
The rising costs of labor in China might have prompted some labor-intensive enterprises to relocate their production units to other countries and regions in recent years. But that should not stop China from continuing to deepen reform and opening-up, especially intensifying the supply-side structural reform, so as to meet the country's strategic needs and realize the Chinese Dream of national rejuvenation-goals the country decided to achieve long before the US triggered the trade dispute.
In addition, China should better protect intellectual property rights to expedite the development of the advanced technology sector and make the country more innovative, as well as to safeguard the interests of foreign companies and create a level playing field so that Chinese and foreign enterprises can engage in free and fair competition.
Chen Fengying, a senior researcher in world economy studies at the China Institutes of Contemporary International Relations
The views don't necessarily represent those of China Daily.
Most Viewed in 24 Hours
China Views