Paper mills honored for revitalization work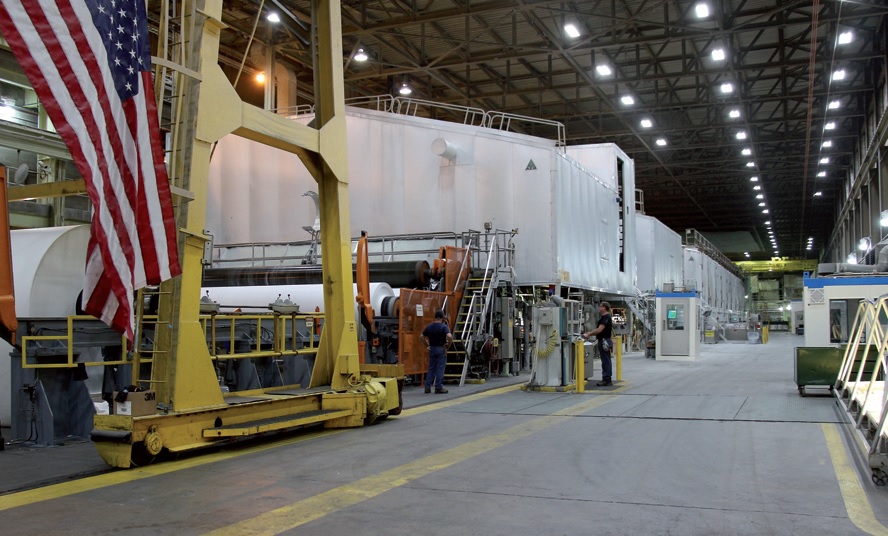 A Chinese paper company helping two old mills in Maine become more environmentally friendly, sustainable and successful was recognized by the Maine International Trade Center as the winner of the 2019 Foreign Direct Investor of the Year award.
"We're really humbled to receive this award, and I believe this award is a reflection of a tremendous hard work of our colleagues who've been working very hard to make sure our mills are successful for the long term," Ken Liu, CEO of ND Paper, told China Daily after he accepted the award May 24.
The Illinois-based company is a wholly owned subsidiary of Nine Dragons Paper Holdings – the largest containerboard producer in China. It currently operates three pulp and paper mills in the US and plans to open a fourth this summer in Maine.
The company has been in the US for raw material sourcing for more than 25 years, according to Liu, but it was last year that the company decided to further expand in the US, acquiring four mills in Biron, Wisconsin; Fairmont, West Virginia; and Rumford and Old Town, Maine, respectively.
The company is investing close to $500 million in the four US locations, including purchase prices.
The Old Town mill was the latest one that ND Paper acquired from OTM Holdings LLC, a subsidiary of CVG Inc, last October for an undisclosed amount.
Liu said there are some challenges that the company faces to restarting the mill, which has been idle for three years.
"To be closed for three years, there's a significant amount of damage that has occurred — three cold winters in Maine are very damaging," Liu said.
Liu said the company has temporarily hired more than 450 contractors on site to test every piece of equipment, fix old motors, repaint parts and replace outdated equipment and gradually test different machines to determine how to restart them safely and efficiently.
"It's really a top-down process," Liu said, "and to restart the mill, it's over $40 million that was spent in the last six months to get this mill restarted."
Another $111 million is being used to upgrade and restore the Rumford mill in Maine.
Liu said a key factor behind the company's decision to invest in Maine is that it is the most heavily forested state in the US, with more than 89 percent forest coverage.
"So, when you're in the wood paper business, Maine is a very natural place to be," Liu said, adding that on top of that, both the Rumford mill and Old Town mill that the company purchased last year in Maine have unique, strong foundations.
Liu said having the opportunity to operate two mills in one state allows the company to have a unique cost structure where mills share a lot of the company's management functions and best practices.
"And ultimately be more competitive because of a lower cost structure," he added.
Liu said the company has about 1,200 employees in the US right now — about 650 at the Rumford mill, 342 in central Wisconsin, 110 in West Virginia and 130 at the Old Town mill once it reopens.
"Our vision is to be a healthy, sustainable company," Liu said. "Our first and foremost objective is to make sure our four mills here in the US are healthy and sustainable."
Liu said the company is focusing on improving the four mills, aiming for operational excellence and committing to safe and clean production to ensure the mills are safe and environmentally sustainable for the long term.
"We'd much rather have four strong mills than 10 average mills," Liu said, adding that once the company ensures the current four mills are highly competitive and sustainable, they would be open to looking to buy new mills.
According to Liu, 80 percent of the company's market is domestic and 20 percent is in export.
"Some of our largest customers in the US would be the landmark printing and publishing companies for magazine papers," Liu said. "Some of our specialty products are labels, for example, labels for water and wine bottles."
Liu said the company is also producing packaging paper, as he believes that's a growth market nationally and globally.
"And then the remaining 20 percent [of our products] is exported throughout the world, including Canada and China," he added.
Liu said the current trade conflict between China and the US has a negative impact on the company's business.
"For example, our recycled pulp, which is a very sustainable and clean product from the Fairmont mill, is subject to 20 percent tariffs, while the wood pulp products that we produce in Maine are subject to 5 percent tariffs," Liu said.
He added that some of the papermaking equipment that the company imported to the US to increase its production is also subject to tariffs.