WWII pilot families lovingly resurrect lost lives
Share - WeChat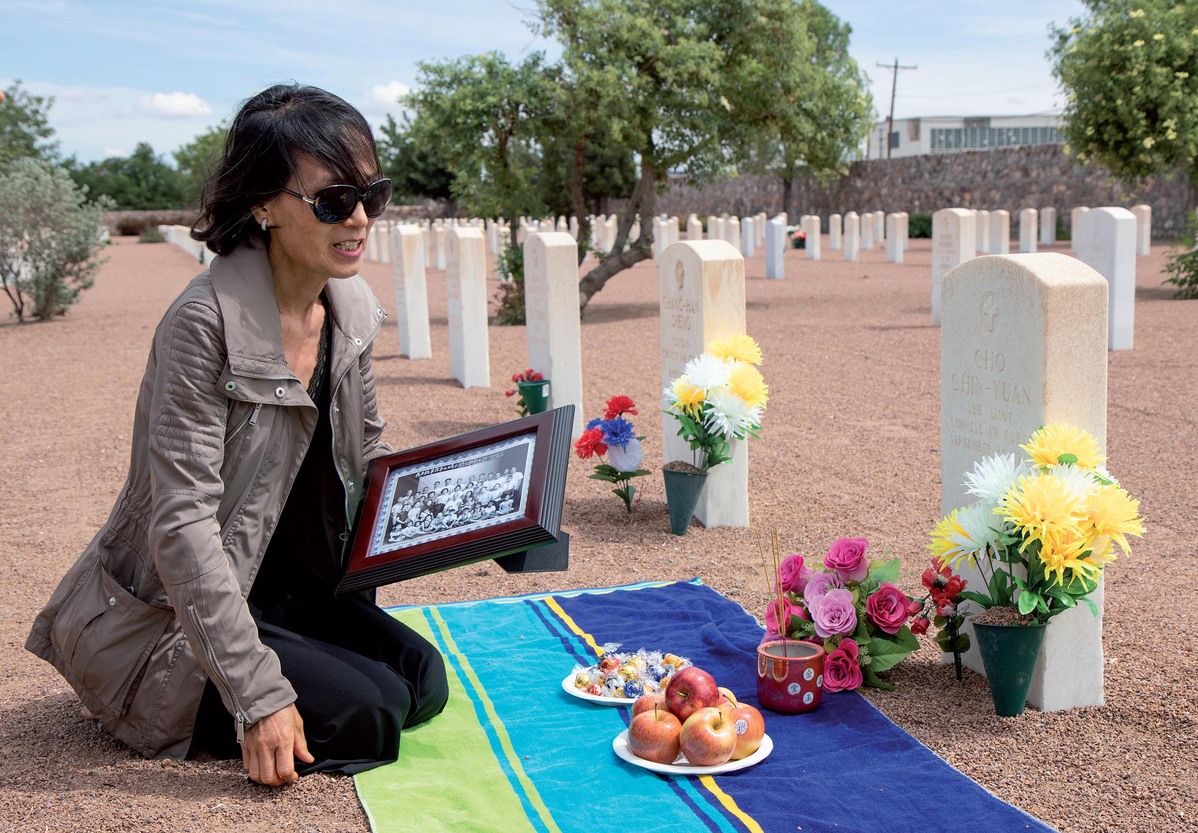 Correcting misspellings
James Porter, director at Fort Bliss National Cemetery, said he has been working with Ann Lee for about a year to verify the information and correct some of the misspelled names.
"It's a great thing to have the families here 70-some years later and get reintroduced to their loved ones, find their final resting place and pay homage to them. We've been providing perpetual care to them for 70-some years and we will continue to do so," said Porter.
Juan Carrillo, a veteran and employee at the cemetery, said he noticed the non-American headstones when he first started working there about five years ago.
"I found it very interesting since we started to do research and bring more light to it. It's been eye-opening," said Carrillo. "They are very honorable to do what they did. We honor them and take care of the gravesites just like any others here. We treat everyone with honor, dignity and respect."
Liu Qun, project manager at Longyue Center, said she has learned history, connections and love by helping families find their loved ones over the past year.
"I want to tell the Chinese pilots lying in the ground: we did it, we brought your families here," she said.
Chinese Consul in Houston Ge Mingdong and many other Chinese Americans in El Paso attended the memorial.
Ann Lee said most of the pilots came from well-to-do families and were well educated.
"However, they gave up everything to fight for their country. Each headstone is carved with the words 'Chinese Air Force'. They had come a long way from China, and their sacrifices are part of the history of the Chinese Air Force against the Japanese invasion.
"Today we remember them for peace. Their short lives remind us: don't forget history and cherish the peace," Lee said.
After the memorial, Lee brought the group to Pima Air and Space Museum in Tucson and the Arizona Commemorative Air Force Museum in Phoenix to see various airplanes flown by the Chinese pilots during their training exercises.
Veteran and Pima museum volunteer James Kozick spent two hours showing the families around, describing the functions of various airplanes used by the Chinese pilots, and telling stories from WWII.
Kozick specifically pointed out the airplane used by the Flying Tigers. "This is a P-40," he told the group. "When I think of China and WWII, I think of this one. It helped to slow the advance of the Japanese in China."
He told how the Chinese helped American B-25 bomber pilots find their way back after they were forced to land in various places in China after running out of fuel on bombing missions.
"The Chinese helped our pilots to get back. We thank you for that," said Kozick.
"We thank you for helping us fight against the Japanese," said a Chinese visitor.
Ann Lee also led the group to the original site of Thunderbird Field, now part of Arizona Christian University.
In the original control tower, which now functions as a student union, the group met with Scott Weaver, an American Airlines pilot and grandson of instructor pilot Leo Purinton at Thunderbird Field during WWII.
Weaver is a third generation F-16 pilot and a Boeing 777 pilot. He juggled his schedule and came over from Washington to meet the Chinese families.
His grandfather taught him and his father how to fly, said Weaver, but Purinton never mentioned Thunderbird Field to him when he was alive.
Weaver collected his grandfather's photos and was able to reconstruct what happened there. "I originally was going to do a story about my grandfather to share with my family, but eventually it became a history of all the pilots trained here and their families," he said.
In 2017, Weaver published his book The Pilots of Thunderbird Field. In it, there are also photos of Chinese cadets. He told the Chinese families what life was like at Thunderbird Field at that time.
"The Stearman [one of the aircraft used for training] was not a very forgiving plane for learning how to fly. The students were under a lot of pressure to perform. Not all the best students made it through the program.
"You might have six or seven rides before a check ride. If you failed the first or second check ride, you were sent into another field," Weaver said.
His grandfather Purinton sometime took his daughter (Weaver's mother) to Thunderbird.
"My mother is still alive at 86 years old. She is the one who used to tell me the stories about the Chinese cadets coming over visiting with my grandfather just down the road in Glendale.
"She was only eight or nine years old. She has such fond memories of the Chinese cadets with big smiles on their faces. From the picture we saw, they also played music.
"My mom was not allowed to drink Coca-Cola, the cadets came over and they gave her that, and she thought that was great. Her memories of these cadets have lasted 75 years," said Weaver.