Reform can quell economic headwinds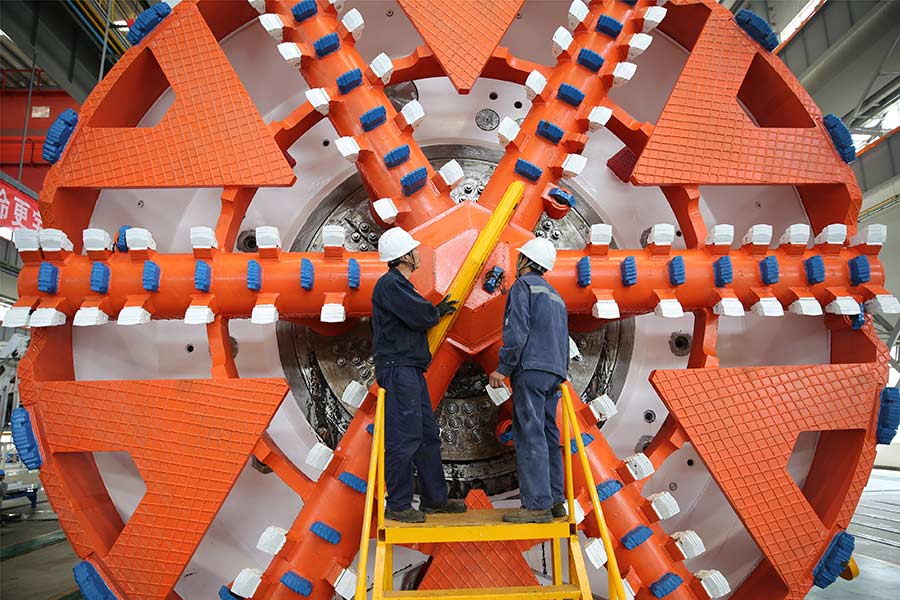 The 19th National Congress of the Communist Party of China in October 2017 advocated that China would be developed into a modern socialist country that is prosperous, strong, culturally advanced, harmonious and beautiful by the middle of this century. But some in the United States consider China's resolve to develop itself into a prosperous and strong country as a matter of concern.
Perhaps this concern has prompted the US to scuttle the 11 rounds of Sino-US trade talks, promote legislation on the protection of Taiwan, increase its military presence in the South China Sea, and hype up the "clash of civilizations" narrative.
The US' moves, combined with the global economic slowdown and China's economic transformation, should impel China to expedite its supply-side structural reform, in order to achieve high-quality development as well as promote economic globalization by further opening up its economy using the Belt and Road Initiative as a channel.
Market must play leading role in resource allocation
To counter the threats to economic globalization and build a new and open economy, China should allow the market to play a leading role in the allocation of resources and further open up the economy to domestic and foreign players, so as to facilitate market integration and free and orderly flow of the factors of production.
And given that the other major economies are using free trade zones as a strategic means to play geopolitical and geo-economic games, China should accelerate the building of free trade zones with other countries under the bilateral or multilateral investment agreement framework for a diametrically opposite purpose: boosting global economic cooperation.
The focus of international trade policy has shifted from tariffs and licensing to convenient investment and trade facilitation policies, and creating of a business-friendly climate. So while opening up the domestic market and helping improve the utilization of foreign capital, China should also work out detailed rules on the foreign investment law, take steps to remove the obstacles to outbound Chinese investments, promote the free flow of global and domestic production factors, and expand its economic development space.
Important to reform global governance system
To stabilize the economy and prevent risks, China should seek more government-funded infrastructure investment projects in fields such as 5G networks, intelligent transport systems and intelligent micro-grid systems. In view of the complicated domestic and global situations, China should more actively participate in the making of new trade and investment rules and reforming the global governance system to make it fairer and equitable, apart from making efforts to ink more free trade agreements across the world.
With the Belt and Road Initiative as the main platform, China should expedite infrastructure connectivity with countries along the two routes, deepen cooperation with them in energy and resource development, people-to-people exchanges and production capacity, promote Chinese enterprises' overseas direct investment and cultivate world-class transnational enterprises. It should also improve relations with neighbors, expand the development of alternative markets, and sign more third-party cooperation agreements with key partners such as European Union countries and Japan.
One of the purposes of China opening up its capital account is to effectively use international resources, improve Chinese enter-prises' competitiveness in the global markets, adjust its economic structure and change its economic development model from quantitative growth to innovation-led qualitative development.
Supply-side structural reform key to progress
China should also deepen its financial system reform and accelerate the opening up of its capital account, because only by deepening the financial sector's supply-side structural reform can it improve its financial services environment, meet the financing needs of its real economy, and become a leader in the global financial sector.
Since the yuan's internationalization is an irreversible trend, China should take measures to make the yuan a major international currency, expand its international influence. On the domestic front, the yuan's internationalization will facilitate China's industrial structural adjustment, and help Chinese enterprises further integrate into the world market, become more technologically advanced and improve production efficiency by taking part in international competition.
The yuan's internationalization will also enable domestic enterprises to avail of both domestic and international resources and markets, and thus promote rational allocation and full utilization of production factors. Therefore, China's plan for the internationalization of the yuan should be meticulous. For example, it could formulate a middle-and long-term plan for Eurasian regional financial cooperation and set up a Eurasian information sharing mechanism for the yuan's internationalization.
China should also expedite the process of economic restructuring, and take steps to lessen the impact of the US' monetary policy on its economy as well as reduce its dependence on exports for economic development.
Besides, it should try to reform the exchange rate system, and enhance the yuan's exchange rate flexibility, so as to promote its internationalization and minimize the impact of the US' monetary policy adjustments on the Chinese economy. China's monetary policymakers should use flexible policy tools, pay attention to the changing trend of such economic variables as price levels, exchange rates and long-term interest rates, and take measures to offset the spillover effects caused by US monetary policy adjustments.
Qualitative growth can tamp up economic base
China also has to build a modern industrial system and transform its economic growth model to tamp up its economic foundation. It should create a policy environment that would prompt the financial sector to better serve the real economy and more effectively prevent economic and financial risks.
There is a need to cultivate and expand the middle-income group, too. By speeding up the industrial structural adjustment, transforming the development model, promoting steady economic growth, and increasing social wealth to make a big cake, China can pull more people out of poverty, prevent polarization of social wealth and give people access to equitable choices and public resources, which are conducive to expanding the middle-income group.
As such, the country should vigorously advance new type of urbanization and modern agriculture, make greater efforts to narrow the urban-rural gap, build a modern industrial system and raise the contribution rate of industrialization to social development and take steps to increase people's incomes.
Development of service sector very important
Equally importantly, China should develop the service sector-including financial securities and modern logistics services, and the information technology and cultural industries-so that it can absorb surplus labor and promote the transformation of the country's social and economic structure. China should also invest more in the service sector, and deregulate the services for the elderly and children, and medical care and education.
Although its overall economic uncertainty has increased, China's economy still has great potential in terms of service and consumption, especially because it is a market of more than 1.3 billion people including a middle-income group of 400 million all of whom are seeking a better life.
The author is an economist with the China Development Bank. The views don't necessarily represent those of China Daily.
Most Viewed in 24 Hours
China Views