You never miss the water till the well runs dry
Share - WeChat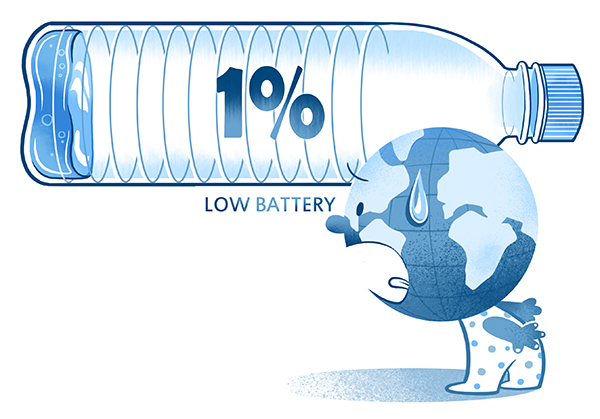 The situation is stark, to say the least. Scenes of thousands of people queuing up to fetch drinking water are all over social media in India. The worst fears of environmentalists and water conservationists have come true.
Chennai, the provincial capital of the southern Indian province of Tamil Nadu, has become the first Indian city to have gone dry. And the future looks bleak for the city's residents as India's Central Water Commission has reported a rainfall deficit of 41 percent in Tamil Nadu till June 13 this year.
Yet till two decades ago, Chennai was among the water-surplus cities in India. Following the traditional water conservation practice in Tamil Nadu, Chennai had nearly two dozen water bodies, which included three rivers and the British era Buckingham Canal. Today, it has just half a dozen.
Worse, a study has found that in the past decade Chennai has lost 33 percent of its wetlands and 24 percent of agricultural land, which are essential to replenish the groundwater table. Why? Because roads, including expressways and overpasses, and high-rise buildings and housing condominiums have been built on reclaimed water bodies and wetlands.
The rest of India, too, faces a similar problem, as politicians and city planners have paid scant respect to the environment, including water conservation. According to a report of Niti Aayog, India's top economic planning body, Chennai is among the 21 Indian cities where groundwater is expected to disappear by, hold your breath, 2020. That is, unless measures are taken to stop, if not reverse, the trend of reclaiming water bodies for urban development or using them as garbage dumps.
There are reasons why the water crisis in Chennai has worsened. The Palar River has been the main source of water for Chennai for as long as one can remember. But since rainfall in the Palar basin has dwindled due mainly to deforestation, the river has almost run dry and can no longer meet the water needs of the city, which has grown drastically in recent decades owing to expanding urbanization.
Due to environmental pollution and deforestation, particularly in the mountains, the virtuous cycle of rivers fed by glaciers or rainfall, which draw sustenance from the green cover, quenching the thirst of the people has changed into a vicious circle of melting glaciers and dwindling rainfall, and, as a consequence, rivers running dry.
The water crisis in Chennai has been hogging the headlines on news channels and in newspapers because it is India's fourth-largest city and an economic powerhouse.
Yet in India's largest province of Maharashtra, where the commercial hub of Mumbai is located, vast areas are staring at another year of drought, as all the measures taken by the provincial government to fight the drought have failed. As such, sugar output in Maharashtra, one of India's largest sugarcane producing provinces, could drop by 40 percent this year, because the area under sugarcane cultivation has declined by 28.5 percent.
Chennai's is an unfortunate example, a result of policies blindly seeking economic growth and urbanization, even at the cost of the environment, especially water bodies. It is also a sordid example of how a water-surplus city can run dry within a couple of decades if the authorities ignore environmental protection and recklessly pursue economic growth. Not all the money in the world would suffice to sustain an economy if it keeps trampling one law of nature after another.
And this should be a lesson for all regions across the world. Hopefully, Chennai will compel not only other Indian cities but also cities across the globe to take sincere steps to protect the environment, particularly to conserve wetlands, marshes, deltas and other water bodies. Because water is the elixir of life.
The author is a senior editor with China Daily.
Most Viewed in 24 Hours
China Views