Education must cross the divide
Share - WeChat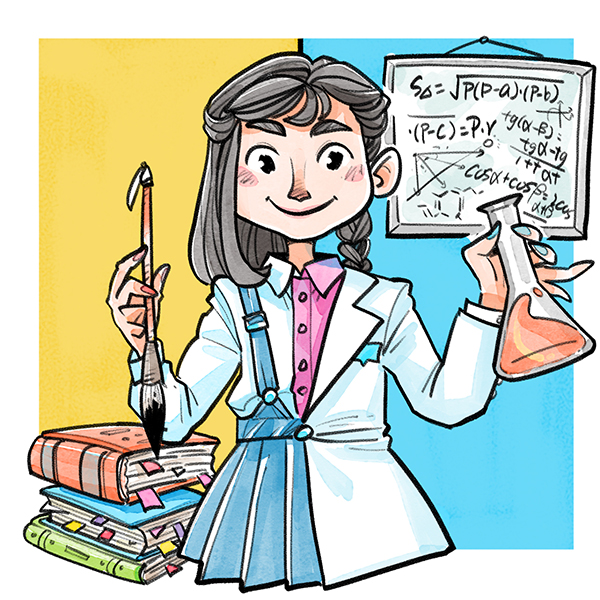 WU YISHU, a high school graduate in Shanghai famous for becoming the champion at the 2017 Chinese Poetry Conference, made a buzz again because she got 613 points out of a possible 660 in this year's annual national college entrance exam. Confounding the expectations of many, Wu will study natural science at Tsinghua University. China Daily writer Zhang Zhouxiang comments:
Many netizens have wondered why the "poetry girl" wants to study natural science as her major.
It seems many people are still trapped in the rigid thinking that divides knowledge into science and arts. For a long time, domestic high schools have divided their students into arts or science classes, where they receive totally different kinds of education, take different tests in the national college entrance examination, or gaokao, and attend different majors upon entering university, where they will hardly receive any education in the other discipline.
In March, in a social media activity, many university students posted their course lists and were astonished to see the huge differences. The majority of arts majors lacked any advanced mathematic courses in their lists, while many science majors do not have Chinese language courses.
As a result of this division, many science graduates lack any knowledge of the humanities, while many arts graduates lack any knowledge of basic science. About four years ago, a quite famous news anchor was even reported as not knowing that the chemical formula for edible salt is NaCl, which prompted a lot of jokes from science students on social media.
Worse, the deep division causes lack of understanding between those who study arts and science. On some past TV programs, certain senior scholars have proudly told jokes about failing their math tests or not knowing any ancient poetry. That's contrary to the modern concept of general education.
Luckily, the ongoing education reform is putting an end to the division between the arts and science in high school. From the latter half of the year, the majority of high school students nationwide will receive comprehensive education that comprises both arts and science courses in a balanced manner.
As early as 2,000 years ago, Confucius said in The Analects that "A gentleman should not be a utensil", which means an educated person needs many skills rather than one so as to avoid being a tool of others.
The wisdom of ancient Chinese stretches across the ages and is echoed by the modern concept of general education. I hope that the domestic higher education reform will learn more from that, for the future of the students and the nation.
Most Viewed in 24 Hours
China Views