Sino-African ties boosted by art, culture
Share - WeChat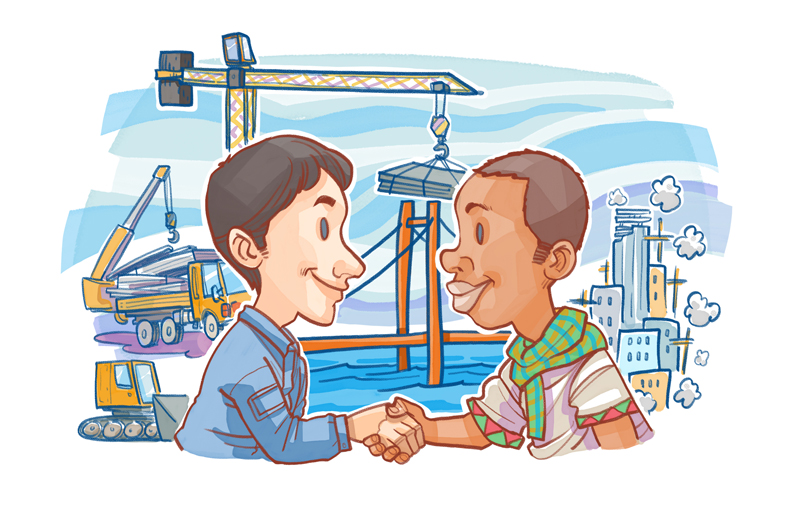 Since the Beijing Summit and the 7th Ministerial Conference of the Forum on China-Africa Cooperation, both held in September last year, China has been eager to deepen cultural diplomacy in which people-to-people exchanges play a vital role.
President Xi Jinping has on numerous occasions outlined plans for China-Africa cooperation in industrial promotion, infrastructure connectivity, trade facilitation, green development, capacity building, peace and security, and healthcare.
The FOCAC Action Plan for people-to-people exchanges emphasizes enhancing mutual learning between Chinese and African civilizations. Furthermore, the China-Africa People's Forum, an institutionalized supporting event for FOCAC, sets the stage for upholding cultural diversity through dialogue in order to encourage mutual support for art, music, language and dance.
The Financial Times noted in March last year that Africa, which has a population of approximately 1.3 billion, is projected to reach 4.2 billion people by the end of the century. It further said that, given the rising population, creative and cultural industries on the continent offer the most viable job opportunities and a source for generating gross domestic product. However, access to the capital and technology needed to develop these industries is crucial, so deeper collaboration is needed between China and Africa.
Population growth is being accompanied by rapid progress in cultural and creative industries in Africa. The sector is becoming one of the major drivers of sustainable economic growth on the continent, generating around $4 billion and about 550,000 jobs each year.
The United Nations Educational, Scientific and Cultural Organization defines cultural and creative industries as "those sectors of organized activity that have as their objective the production or reproduction, the promotion, distribution or commercialization of goods, services and activities of content derived from cultural, artistic or heritage origins".
These include a number of cultural goods and services produced and consumed between China and Africa, such as cultural and natural heritage including museums, archaeological sites, natural heritage and cultural landscapes; performing arts, music, festivals, fairs and feasts; visual arts and crafts like fine arts, photography and crafts; books and other publications; audio media and interactive media such as film and video, television and radio, and internet streaming; design and creative services; and tourism, sports and recreation. These activities generate income as well as job opportunities for millions of people in China and Africa alike.
The United Nations Conference on Trade and Development reported in 2008 and 2010 that, even as the financial crisis affected global trade, with a contraction of 12 percent in international trade, export in creative goods continued to grow.
A study conducted by Euromonitor, a London-based market research company, found that 97 million Chinese nationals traveled abroad in 2017. As China's household incomes increase, the number of outbound tourists is projected to reach 259 million in 2030. This calls for easing of migration rules and visa application procedures in Africa.
The continent should position itself as a favorite travel destination. In 2017, travelers from China spent about $260 billion. Africa's share of the market has been growing steadily, with support from Chinese policymakers as well as efforts in some countries to ease visa application rules. Other factors that are encouraging Chinese tourists to go to Africa are the uniqueness of the continent, the friendliness of African people and the affordability of services.
China has been engaged in media exchanges since the 1950s. Since 2012, it has actively participated in reporting and covering Africa through channels such as China Central Television and China Daily. Through them, China is not only amplifying Africa's voice on global platforms and creating China-Africa narratives, but also promoting interactions between the peoples of China and Africa.
China is also taking steps to make films featuring some parts of Africa, including Durban and Soweto in South Africa. Messages in the films are geared toward enhancing China-Africa relations.
As China and Africa continue to partner with each other, people-to-people relations based on peace and development will flourish.
The author is a senior policy analyst at the Africa Policy Institute, a Nairobi-based, pan-African think tank. The views do not necessarily reflect those of China Daily.