Yorkshire fish and chip shop to open branch in China
Share - WeChat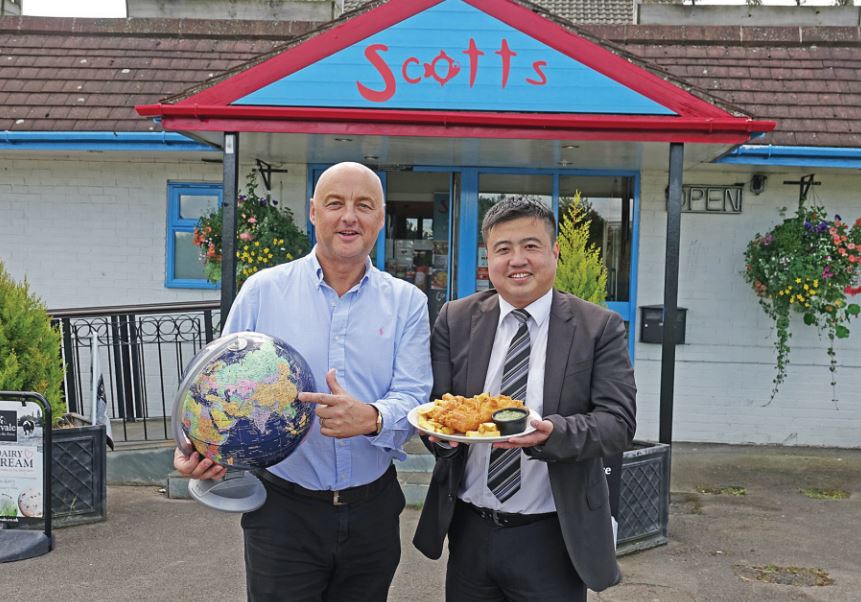 A fish and chip shop in Yorkshire in the North of England has become so popular with Chinese tourists that the ownership has announced plans to open a branch in Chengdu, Sichuan province.
Located near Bilbrough on the main highway from London to the historic city of York, Scotts Fish and Chips has long been a popular pit stop for hungry British motorists. But two unrelated events in 2015 transformed this Yorkshire chip shop into a must-visit destination for Chinese tourists as well.
In October 2015, while on a state visit to the UK, President Xi Jinping ordered fish and chips at a pub in Buckinghamshire, sparking widespread Chinese interest in the traditional British meal.
In January that same year, the "king of Asian pop" Jay Chou held his wedding reception at Castle Howard near York. Since the Chou wedding, around 650 Chinese tour buses each year visit the stately home, up from just four in 2014.
This unprecedented interest in both Yorkshire and fish and chips meant Scotts experienced an influx in Chinese visitors, and shop owner Tony Webster started looking for ways to cater to his new clientele.
"We thought we should be doing more to adapt to the Chinese culture, so we translated out menu and embraced Chinese social media," he told China Daily.
Last year Scotts teamed up with Will Zhuang, who manages Chinese social media for tourism authority Visit York, and created menus in Mandarin and Cantonese as well as accounts on Weibo and WeChat.
This strategy and publicity push have placed Scotts on the itinerary of many Chinese tour groups heading north from London.
"We now get five or six coach parties every week, as well as private groups, so a few hundred Chinese tourists on a weekly basis, "said Webster.
In December last year, a consortium of Chinese businessmen-who have asked to remain unnamed at this stage -approached Scotts about creating a replica restaurant in Chengdu.
Webster says the deal was recently agreed in principle, a site has been located, and they aim to open in August or September this year.
"You always have to take into account local tastes in cuisine, but this is all about authentic English fish and chips, with the Scotts batter and recipe," said Webster.
"We use Icelandic cod and haddock, and I believe Icelandic cod is readily available in China. The differences are that in the UK we have tomato ketchup or brown sauce -maybe in China there will be a spicy sauce or other accompaniments."
At the Bilbrough location, Webster says Chinese diners almost exclusively order classic fish and chips from the menu, and rarely ask for mushy peas, a common side dish for British diners. Instead, some diners will bring their own sachets of seasonings to spice things up.
Scotts is not the only British food and drink business to benefit from the Chinese state visit. After Xi and former UK prime minister Cameron ate battered cod and sank pints of beer at the Plough pub at Cadsden, the bar in the sleepy Buckinghamshire village is now a regular stop for Chinese tour groups.
The two leaders' drink of choice was India pale ale from Suffolk-based brewer Greene King, which reported a 16-fold increase in orders from China in the weeks that followed Xi's visit in 2015.
The brewer said it sent 50,000 cases to China in the lead up to Chinese New Year celebrations in early 2016.
Later that year, Chinese investment group SinoFortune Investment purchased the Plough at Cadsden.