Crayfish's popularity in Qianjiang spreads abroad
Share - WeChat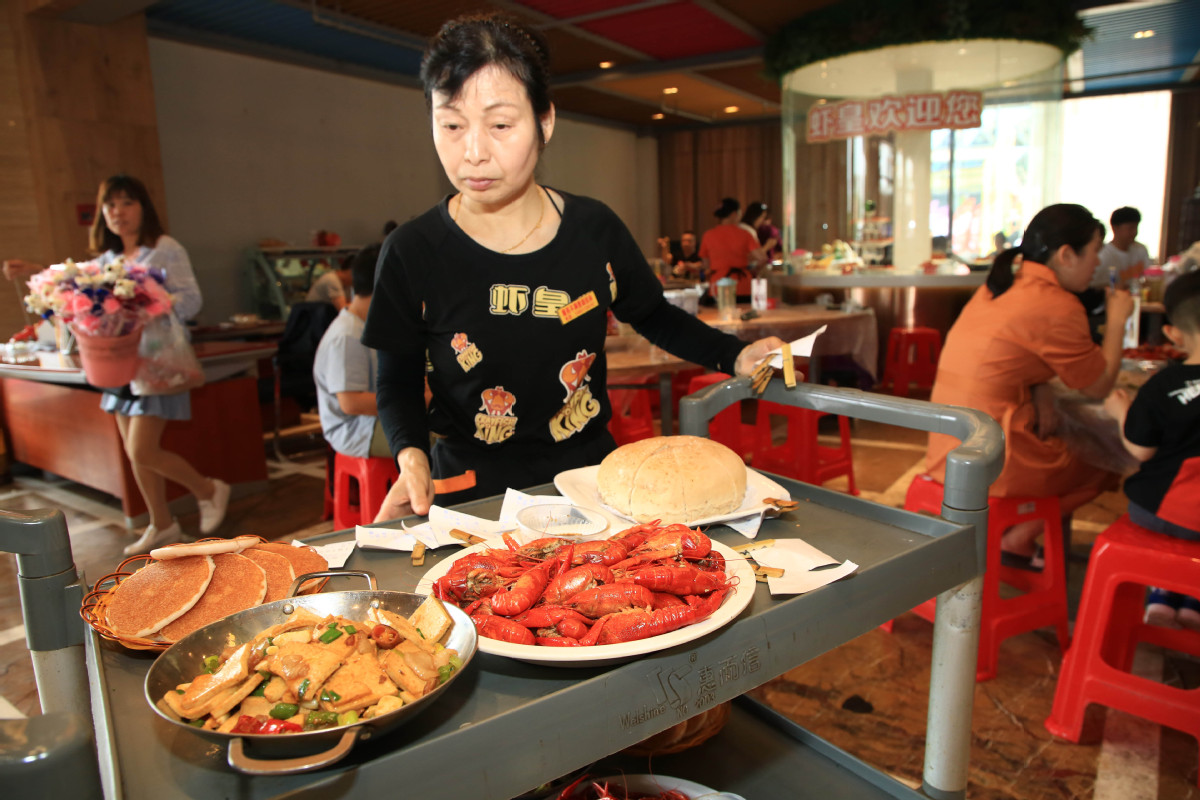 At an international food festival which recently concluded in Qianjiang city of Central China's Hubei province, crayfish emerged as an ideal ingredient for Chinese-Western fusion cuisines.
The event, which included investment activities, seminars and meetings on the e-commerce of aquatic products, attracted more than 200 enterprises from home and abroad.
"Crayfish can be adapted for both Chinese and Western cuisines, with which we can also innovate a lot of fusion food," said Ma Guangjun, principal of the Qianjiang Crayfish Vocational School.
"There were more than 100 types of food featuring crayfish at the festival, including baked crayfish with cheese and traditional Chinese dishes such as steamed crayfish, to satisfy various diners."
Native to North America, crayfish were brought to East China's Jiangsu province by a Japanese merchant in the 1920s or 1930s. About 30 years ago, crayfish appeared on the plains of Central China and villagers made the shellfish into a big business after they found it tasty.
Crayfish is one of the most popular foods in the Chinese market. As the largest crayfish producer in the world, China had more than 667,000 hectares of crayfish breeding areas in 2017, with an output of over 1 million metric tons, according to a report on the Chinese crayfish industry released last year.
"Students from not only across China, but also from Thailand, Malaysia and other countries come to Qianjiang to study crayfish cuisine with the increasing demand in the market," Ma said. "Some foreign students are planning to open crayfish restaurants in their own countries."
The city exported $150 million worth of crayfish to more than 30 countries last year, ranking first among Chinese cities. Related industries created 150,000 jobs and helped lift 20,000 people out of poverty.
The Qianjiang Crayfish Vocational School has signed a strategic agreement with Canada Achieve Group to send crayfish cooking experts to Canada.
"We will send our experts to train local talent in crayfish breeding and cooking in the next five years, and they will also send students to study at our school," Ma said.
Tony Elenis, president of the Ontario Restaurant Hotel and Motel Association, also predicts of the cuisine's popularity in Canada. "Crayfish, as one of the most popular foods in China, will certainly be loved by many locals in Canada," he said.
Xinhua