3rd place in smartphone market inspires Honor to eye offline retail
Share - WeChat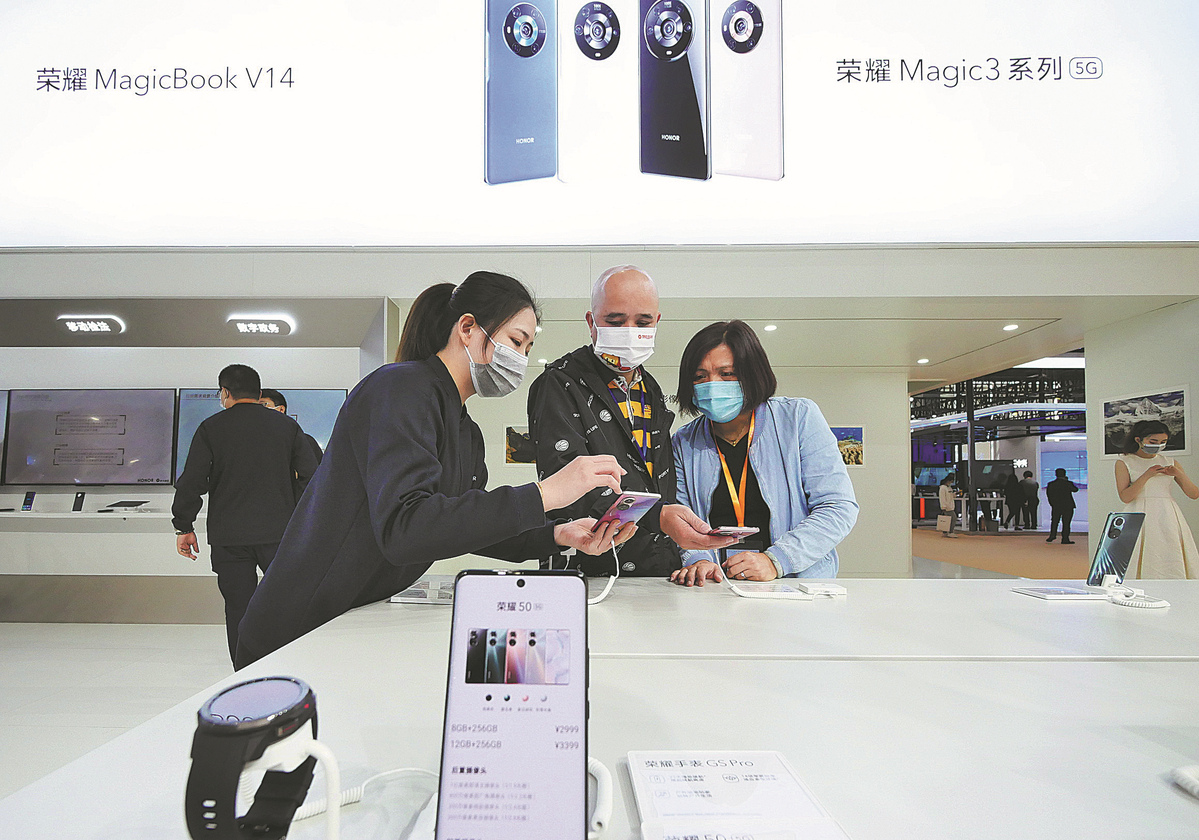 Chinese smartphone maker Honor Device Co Ltd is ratcheting up efforts to expand its offline retail presence after a strong rebound helped it to become the third-largest domestic smartphone brand in the third quarter.
The move comes after the Shenzhen, Guangdong province-based company unveiled its latest smartphone Honor 60 series on Wednesday to attract consumers who like using handsets to shoot videos.
Zhao Ming, CEO of Honor, said the company's brick-and-mortar retail system is on a fast-track development, and the total number of its retail stores, authorized experience stores and authorized sales counters now exceed 30,000.
"We will further expand our offline presence. Since October, the number of Honor's authorized experience stores has exceeded 2,000, and the number is still growing rapidly," Zhao said.
Data from market research company International Data Corp showed that in the third quarter, Honor shipped 14 million units of smartphones in China, marking a jump of 31.7 percent year-on-year. The robust performance helped it to gain a domestic market share of 17.3 percent, which means the company has returned to its previous high, and it only trailed Vivo and Oppo in the third quarter.
Tarun Pathak, research director of market research company Counterpoint, said: "After being spun off from Huawei, Honor was able to restore ties with component players. Since then, leveraging its strong research and development capabilities, Honor has launched new products and has been on a rapid recovery path in China."
Pathak said the Honor 50 series has been an instant success in the midrange segment. Honor is also targeting the premium segment with its Magic series, thus expanding its portfolio across price bands.
"There was also pent-up demand from loyal Huawei and Honor consumers who held onto their devices and did not switch to other brands. Its strong relationships with distributors also helped the company relaunch products on a large scale,"Pathak said.
But it is worth noting that in October, Apple Inc's sales of its iPhones grew 46 percent month-on-month in China, making it the new largest smartphone brand in the Chinese market for the first time since December 2015.
Pathak said that the top position in China "has been changing hands" since the decline of Huawei Technologies Co. Apple's rise was driven by the success of the iPhone 13 series, which was also launched at a cheaper price than the iPhone 12 series in China.
In response to Apple's reemergence as the largest smartphone brand in the Chinese market, Zhao from Honor said it is exciting for the industry to have a strong competitor, which will promote healthy competition.
Zhao also said domestic brands should not believe that high-end components pieced together will automatically translate into high-end experiences for consumers. Also, it is naive to say that the void in the premium smartphone segment left by Huawei will be automatically filled by domestic brands.
Zhao added that partly due to a chip shortage that is affecting the whole smartphone industry, more than 60 to 70 percent of smartphones Honor sold in the second half are devices priced above 2,000 yuan ($313). And the company will invest heavily in R&D to expand its presence in the premium segment.