Boeing 737 Max could be back in skies this month
Share - WeChat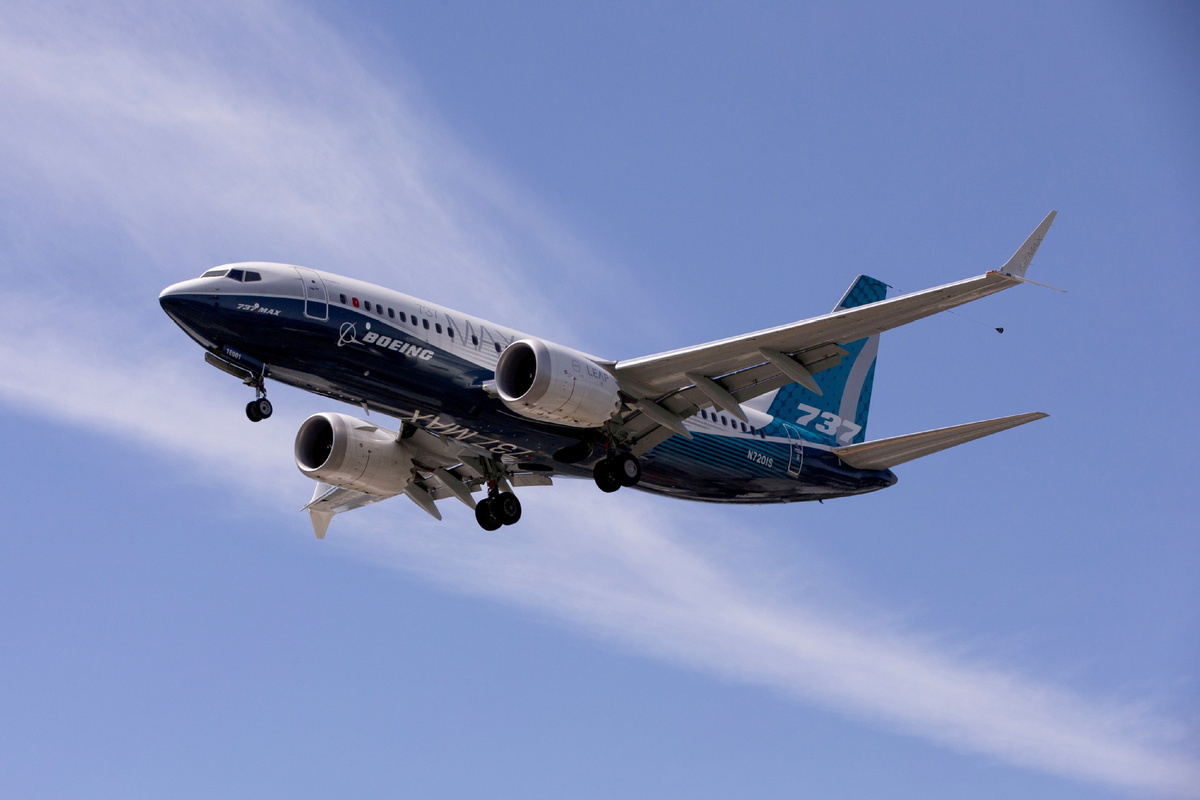 The Boeing 737 Max is expected to begin flying in China again as early as the end of this month after being grounded for more than two years following two fatal crashes, China's civil aviation administration said on Friday.
An airworthiness directive on the Boeing 737 Max was issued by the administration on Thursday after soliciting opinions from the industry.
Yang Zhenmei, director of the administration's airworthiness department, said receiving an airworthiness directive is a fundamental step before flights can resume, and it will take time for domestic airlines to adapt to the plane and train pilots, she told a livestreaming news conference on Friday.
She also argued that the Boeing 737 Max case is irrelevant to the domestically manufactured C919, which is seeking an airworthiness certificate. The C919, a narrow-body passenger jet, is on the fast track to receiving airworthiness certification before the commercial launch worldwide.
"Receiving an airworthiness directive only means that the jet can fly without relevant legal concerns in China, but it does not mean that it can resume flying in China immediately," said Zhang Qihuai, a senior lawyer specializing in civil aviation cases.
"China is Boeing's largest market in terms of jet sales and passenger transportation. China's airline companies have already placed orders for more than 100 Boeing 737 Max jets from the company but the deal is still pending because the model is not yet allowed to operate in China," he said, adding that returning to China's market is essential for Boeing.
The jet was grounded around the world following fatal crashes that killed 346 people-an Ethiopian Airlines jet crashed six minutes into a flight from Addis Ababa in March 2019, less than five months after another Boeing 737 Max flown by Indonesia's Lion Air plunged into the Java Sea.
China grounded its fleet of 97 Boeing 737 Max jets on March 11,2019, the first country to do so.
The administration said three conditions must be met for the jets to be put back into service in China: updated designs must pass airworthiness inspections; pilots must receive adequate training; and the cause of the crashes must be clear and modifications have proved effective.
In November last year, the United States Federal Aviation Administration cleared the 737 Max for flights, followed by other jurisdictions such as Brazil and the European Union.
The company is seeking permits to resume service in China.
In August, a Boeing 737 Max made a round trip between Shanghai Pudong International Airport and Zhoushan Putuoshan Airport in Zhejiang province on a certified test flight. It was the first time the jet had flown in China after being grounded.