JD shows consumer demand for imported fruits, fresh produce rising
Share - WeChat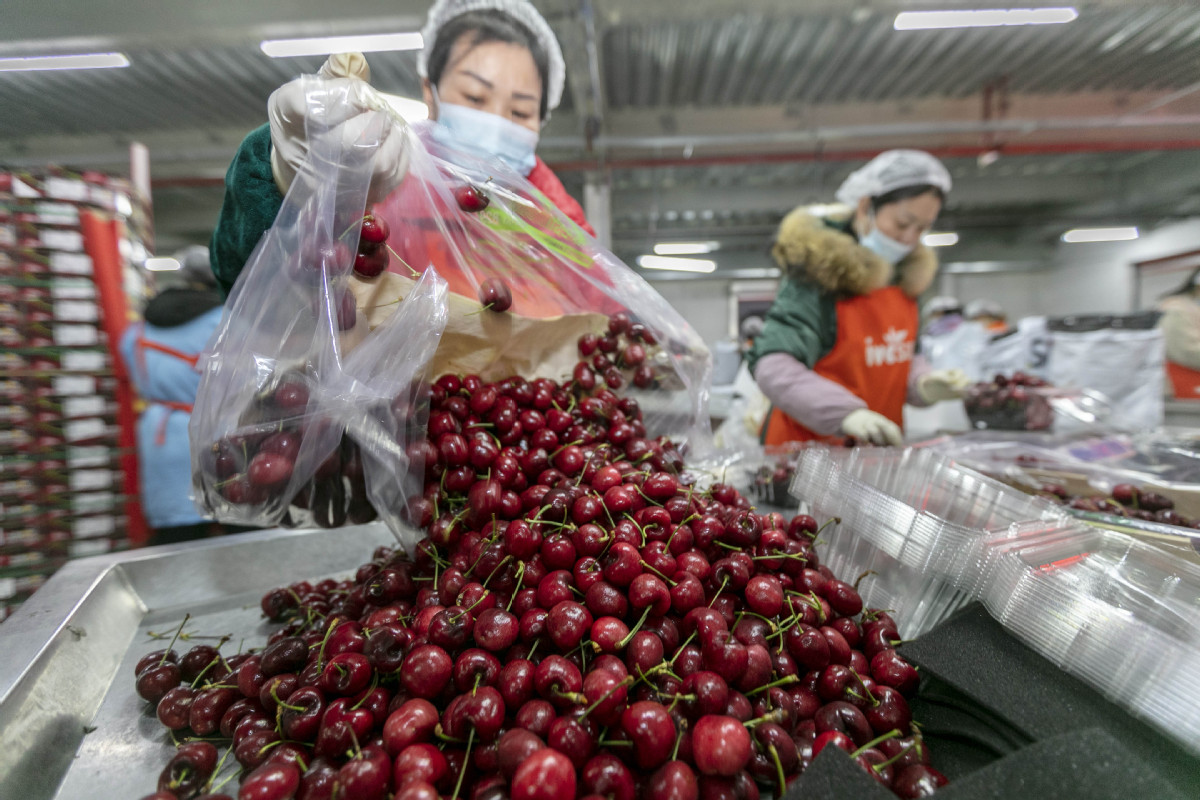 Fresh food specialist JD Fresh, an arm of e-commerce giant JD, is intensifying efforts to import Chilean cherries and other fresh produce, as a growing number of Chinese consumers are spending more on high-quality overseas goods.
The company signed cooperation agreements with four top exporters in Chile for direct sourcing of high-quality Chilean cherries, which are among the most popular imported products among Chinese consumers.
China is the world's largest export market for Chilean cherries. About 92 percent of exported Chilean cherries land in China, said Luis Schmidt Montes, Chile's ambassador to China.
He noted that Chile is the first South American country to establish a virtual national pavilion on JD. The online space offers about 30 Chilean brands across categories like wine, salmon, olive oil, honey, fruit puree, seafood products and fresh fruit like cherries.
JD Fresh said it will directly procure more than 1.8 million 5-kilogram boxes of cherries from Chile by the end of 2022. Overall sales are expected to exceed 1 billion yuan ($157 million), thanks to the continuous enhancement of JD's overseas direct sourcing supply chain.
By the end of November, the transaction volume for cherries on JD soared by 200 percent year-on-year. JD Fresh's cherry sales reached nearly 500 million yuan in the 2020 season.
The popularity of imported high-end fruits can be attributed to rising disposable incomes and health awareness among Chinese consumers. The value of imported fruits in China reached $12 billion during the January-October period, up 33.5 percent year-on-year, according to the China Chamber of Commerce of Import & Export of Foodstuffs, Native Produce & Animal By-Products.
"We will continue to focus on overseas direct sourcing and the upstream supply chain to bring premium fresh products like cherries from Chile, durian and black tiger shrimp from Thailand and salmon from Norway to Chinese consumers," said Zhou Xiaozhou, general manager of the fruit and vegetable procurement division at JD Fresh.
Zhou said the company will further upgrade its supply chain model, self-owned cold chain equipment, and the whole logistics system. JD Fresh has high standards for fresh products to ensure quality control from the origin. Zhou added one important factor in choosing exporters for direct sourcing is their scale, capability and willingness to work with JD Fresh.
JD has implemented several measures on specifications, net weight and packaging to strictly guarantee the quality of imported cherries.
The company has also upgraded its inspection for imported fresh products amid the COVID-19 pandemic. In addition to having a QR code for tracking, each batch of cherries can only be admitted to the JD warehouse on the condition of having a COVID-19 nucleic acid testing report, inspection and quarantine certificate for entry goods, and a sanitization report.
Chinese consumers are pursuing high-quality lifestyles and are keen on purchasing premium imported fresh products along with the consumption upgrades, said Chen Tao, an analyst with internet consultancy Analysys in Beijing.
"However, their demand for fruit and other fresh produce couldn't be satisfied, especially in autumn and winter, due to the constraints of geography and climate. Some cross-border e-commerce platforms have seized the opportunity to offer more seasonal fruit from the southern hemisphere to cater to the needs of Chinese shoppers," Chen said.
Data from consulting firm iResearch showed China's fresh food e-commerce trading volume reached 458.5 billion yuan in 2020, up 64 percent year-on-year. The figure is expected to soar to 670.5 billion yuan this year, representing a huge market potential.
Chen is bullish on the prospects of the imported fresh produce market, which is set to witness robust growth, despite being affected by the pandemic. In addition, more efforts should be made to follow relevant inspection and quarantine from the Customs, and adopt stricter disinfection measures to ensure the safety of imported fresh produce and resolve consumer concerns.
Cao Lei, director of the Internet Economy Institute, a consultancy, noted that online retailers should ramp up efforts in cold chain logistics construction and increase investment in supply chains to ensure top quality of their products.