Ailing Guangzhou puts trust in Zheng
Share - WeChat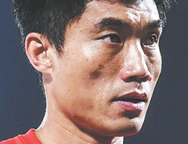 Struggling Guangzhou FC has appointed first-team stalwart Zheng Zhi to the dual role of player-coach in a move widely viewed as a sign of the Chinese Super League giant's worsening financial predicament.
Player-coaches are almost unheard of in top-level soccer nowadays, but on Tuesday Guangzhou FC announced that 41-year-old former China international Zheng will become the club's first-team head coach while remaining part of its squad.
"We hope all the coaches, players and staff can maintain a strong sense of honor and spirit of teamwork," read the club's announcement. "The team should overcome all difficulties, train hard and fight fearlessly to finish our goal."
Zheng started his career in 2001 at Shenzhen Jianlibao, moving onto Shandong Luneng before being loaned to then English top-flight side Charlton Athletic in 2006. After a short stint in Scotland with Celtic in 2009, Zheng returned to China a year later to sign for Guangzhou FC, which was then known as Guangzhou Evergrande.
Zheng went on to establish himself as a defensive rock for Guangzhou, winning eight CSL titles with the club, and becoming an icon of Chinese soccer by being named Asian Footballer of the Year in 2013.
While there's no doubting his vast experience and standing within the game, Zheng's promotion to player-coach is viewed as a cost-cutting move amid Guangzhou FC's money woes. Reports in recent months suggest the club is fighting for survival due to Evergrande Group's precarious financial situation.
Player-coaches or player-managers are extremely rare in elite-level soccer nowadays, although there are instances of the model yielding success for European clubs in the past-most notably the for the all-conquering Liverpool side of the 1980s with Scottish great Kenny Dalglish at the helm.
These days the demands on managers and coaches are considered too vast to add the additional responsibility of performing on the pitch.
News of Zheng's appointment instantly became trending news on Chinese social media, with related topics viewed over 23 million times on Weibo in just two hours.
While the news added to concerns about Guangzhou FC's future, many fans were also intrigued to see if the tough-tackling Zheng will pick himself in his starting XI.
"Plenty of people would like to see Zheng Zhi put himself on the pitch. So as the head coach, Zheng Zhi needs to control himself to avoid any red cards," Soccer News journalist Li Xuan wrote on social media.
"Guangzhou FC will face the top four teams of the Suzhou competition zone, including Beijing Guo'an and Shanghai Port. So over the next eight rounds, how many games can Guangzhou win?"
The CSL has been suspended since August to accommodate Team China's recent World Cup qualifiers. Last week, the Chinese Football Association announced that the second phase of the league will start on Sunday, cramming 64 matches into a 24-day period.
Guangzhou FC currently sits second in the standings, but will be without some, if not all, of its naturalized players.
Team China forwards Alan and Ai Kesen (aka Elkeson) have decided to take a break from soccer following the qualifiers and return to their native Brazil.
According to Soccer News, English-born Jiang Guangtai (aka Tyias Browning) and Brazil-born Luo Guofu (aka Aloisio) both returned to China after the qualifiers but are in negotiations with Guangzhou over their availability for the CSL resumption.
That has led to speculation that Guangzhou FC is financially unable to hang onto its naturalized players, with a wholesale exodus of the imports possibly on the cards.
Most Popular
Highlights
What's Hot