MNCs praise China's big role since WTO entry
Share - WeChat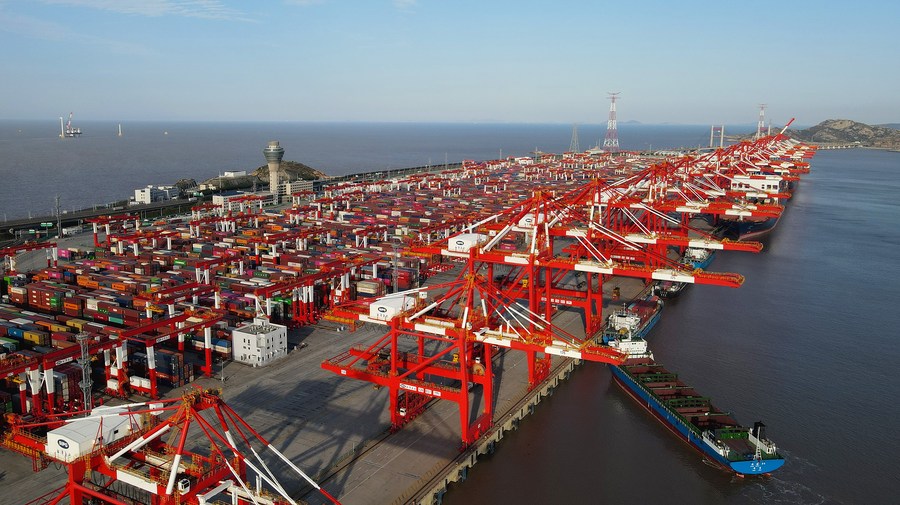 Multinational corporations touted China's contributions to the global economy since the country's accession to the World Trade Organization two decades ago, calling it a signature move and a milestone for China's opening-up.
China officially joined the WTO on Dec 11, 2001, becoming the 143rd member of the trade body.
Business executives said they believe China's WTO membership has essentially created opportunities, unified rules, spurred growth and hence boosted confidence.
US conglomerate Honeywell has witnessed China becoming the company's second-largest single market, recording the largest growth rate since its WTO entry.
In fact, the company's business agenda has found synergies with China's economic takeoff, said Steven Lien, president of Honeywell China and Aerospace Asia Pacific.
"Back in 2003, only two years after China's accession to the WTO, Honeywell relocated its Asia-Pacific headquarters to Shanghai, established the company's largest R&D center in Asia and launched 'East for East' and 'East to Rest' development strategies for our China business," Lien said.
The company has also supplied four critical technologies and solutions to China's first homegrown passenger aircraft C919, including an auxiliary power system, wheels and brakes, flight control package and navigation technology.
Lien said temporary uncertainties have not deterred, but rather reinforced, its commitment in China. Honeywell launched its emerging market headquarters and innovation center in Wuhan, Hubei province, during the initial phase of the COVID-19 pandemic in early 2020, becoming the first Fortune 500 company to set up a subsidiary in the city last year.
The WTO membership has created substantial opportunities for Chinese companies to go global, while pushing Chinese industries and markets to open up based on fair trade rules, said Li Donghui, CEO of Zhejiang Geely Holding Group.
Around the time China joined the WTO, Geely received a car production license, thus becoming the first private automaker in China. It exploited the opportunity to compete with Chinese and even global auto brands on the same stage.
"China's accession to the WTO has actually forced Chinese companies to grow faster to deal with the fierce impact of international brands," Li said. "At the same time, the open policy in the automotive industry has promoted local brands to become truly competitive in the market."
He added that the WTO accession also provided local enterprises with access to global capital, design, R&D, talent and resources. "As we expanded our business to Sweden, Malaysia and the United Kingdom, our team also played a role in advancing people-to-people diplomacy."
Also an automaker, US electric vehicle company Tesla regards itself as "a direct beneficiary" of China's continuous opening-up and business environment optimization.
"In the early stage of our factory construction, the Shanghai municipal government organized a special group to formulate a dedicated service list, and help us familiarize ourselves with various approval processes in a more efficient manner," said Grace Tao, vice-president of Tesla China.
Upon the outbreak of COVID-19, while industries worldwide were grappling with supply chain challenges, the Chinese government treated all enterprises registered in China equally, relaxing policies on supply chains and equipment imports. Tao said these measures were key to the company's eye-catching performance in the two years since the pandemic broke out.
The significance of China's accession to the WTO is that it established the basic framework and development direction of the market economy from an institutional perspective, making it more in line with international standards, said Ai Zhouping, president of German technology company Heraeus' China unit.
"Our global headquarters holds a clear vision of where China is heading, making it easier to communicate with us because now we abide by the same sets of business rules and do things in accordance with market economy logic," Ai said.
In addition, the WTO accession has facilitated two-way flows of capital, talent and technology. China also attaches more importance to building a legal system including an intellectual property legal framework. This gives foreign companies like Heraeus more impetus to bring advanced technologies and even set up local innovation research labs in the country.
"It's also important to note that many of our international customers, including those in the semiconductor, automobile, medical and chemical sectors, are optimistic about China's market prospects and double down on investment here," he said. "This will in turn bring novel opportunities to Heraeus, thus forming a win-win circle," Ai added.