China says peninsula talks need support
Share - WeChat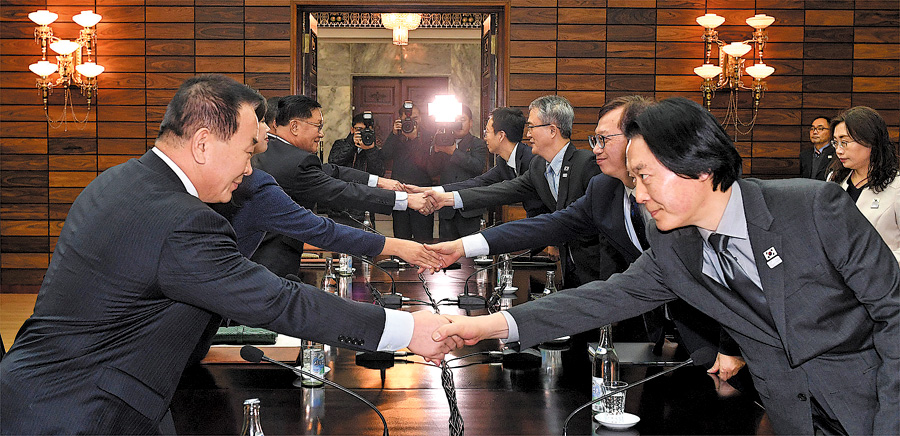 The international community should support the improvement of the situation in the Korean Peninsula, though the parties concerned still lack mutual trust and their opinions are far apart, said Kong Xuanyou, vice-foreign minister.
In an interview with Phoenix TV broadcast on Monday, Kong, also China's special representative on Korean Peninsula affairs, listed three factors that will affect greatly how the situation will develop.
The first is whether the current positive momentum of interaction between Pyongyang and Seoul will continue. The second is whether such momentum will lead to political talks focused on solving the peninsula issue. The third is talks between Pyongyang and Washington, which Kong said is "key to solving the issue".
Beijing hopes Washington will take advantage of the opportunity and seek direct dialogue with Pyongyang to address reasonable concerns and to promote denuclearization of the peninsula, he said.
Kong's interview was broadcast on the day Pyongyang and Seoul held working-level talks, following their high-level talks last week over issues including Pyongyang's participation in the 2018 Winter Olympics and improvement of ties.
Pyongyang agreed to participate in the Games, held in the Republic of Korea in February, and to hold military talks with Seoul. The two sides reopened a military hotline this month that had been closed for about two years.
The situation had worsened since Pyongyang conducted a nuclear test in January 2016. The United Nations Security Council adopted resolutions including sanctions on Pyongyang as the latter continued with its nuclear and missile programs.
A Phoenix TV message on Sina Weibo said that Kong said China, which has accepted and approved of the resolutions, will implement them 100 percent. Resolutions, however, not only include sanctions, but also require all parties to enhance diplomatic efforts, he said.
Zhou Jin contributed to this story.