US cities braced for impacts of China's waste ban
Share - WeChat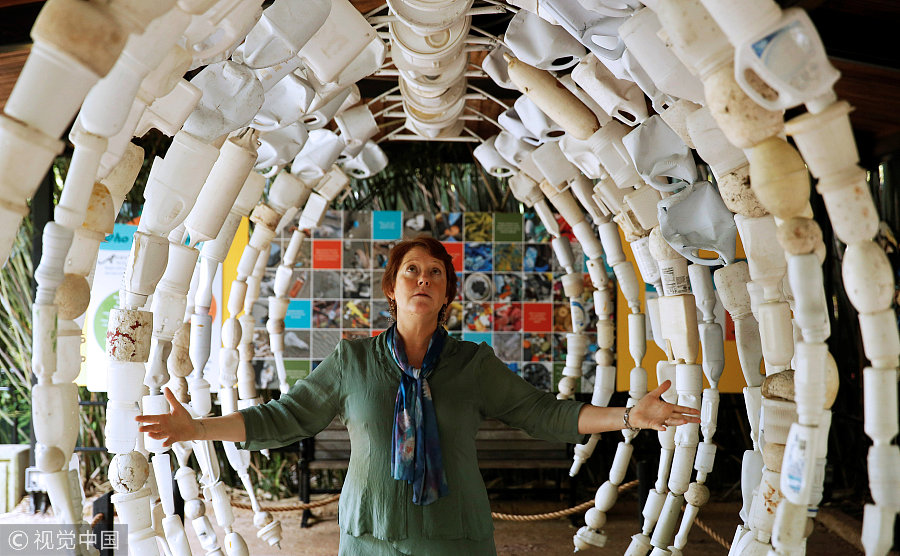 SAN FRANCISCO -- The cities on the US West Coast are bracing themselves for looming impact of China's ban on imported waste, which will take full effect on March 1.
The city of San Jose, California, is exploring methods to encourage residents and businesses to produce less waste while renegotiating with waste recycling contractors.
The new policy, called National Sword, "stands to dramatically change the terms of those agreements with current contractors," Kerrie Romanow, director of Environmental Services Department of San Jose, said in a recent report to the city council.
The city is mulling over a community outreach campaign to reduce junk mail in an effort to reduce the volume of mixed paper, according to the department.
"National Sword is not just a local issue; it is a global one. We are asking customers to be more attentive to sorting," Robert Reed, spokesman for Recology, a waste management company serving San Francisco, told Xinhua on Sunday.
While stepping up outreach to customers, the company has just upgraded the recycling facility and budgeted another 3 million US dollars to invest in new sorting technology this year.
The city of Seattle is also encouraging customers to focus on recycling correctly. In San Francisco, Recology company has been educating the public to care about the junk they toss away through an art program.
China is the largest importer of US recyclables. The waste recycling market in the United States is expected to suffer from China's tightened control on waste imports.
In 2016, the US exported to China a total of 5.6 billion dollars worth of scrap metal, paper and plastic, according to the Institute of Scrap Recycling Industries, a US-based non-profit trade association representing more than 1,600 private and public for-profit companies.
The West Coast will be hit the hardest since more than 60 percent of the collected recyclables in the region are exported to China.
In Oregon state, some recycling programs have been suspended and jurisdictions are petitioning the state to allow landfilling of some recyclable commodities they have been unable to sell.
Since China announced the ban last July, the number of shipments have been dropping. In September, exports of scrap paper from West Coast ports fell 17 percent year on year, according to trade data of the US Census Bureau.
Inspections of waste exports have increased, and some commodities which previously sold at higher prices are now being sold at very low to no profit, Romanow said, adding that it is unknown at this time how the ban may impact contractor revenues this year.
Under the new policy, China will ban imports of 24 types of solid waste, including plastic waste, unsorted paper waste and crude textile waste, to protect public health from hazards mixed in the recycling materials.
Imported solid waste, some of which had been useful as raw materials in the past, has caused damage to the country's environment and public health, said Guo Jing, who is in charge of international cooperation at the Chinese Ministry of Environmental Protection.
"The problem of foreign garbage is loathed by everyone in China," he told reporters, adding that China has notified the World Trade Organization of the ban.
The Chinese government is stepping up the fight against pollution and environmental degradation, as decades of fast growth have left the country saddled with smog and contaminated soil.