No reason for 'Tropical Trump' to disrupt relations with China: China Daily editorial
Share - WeChat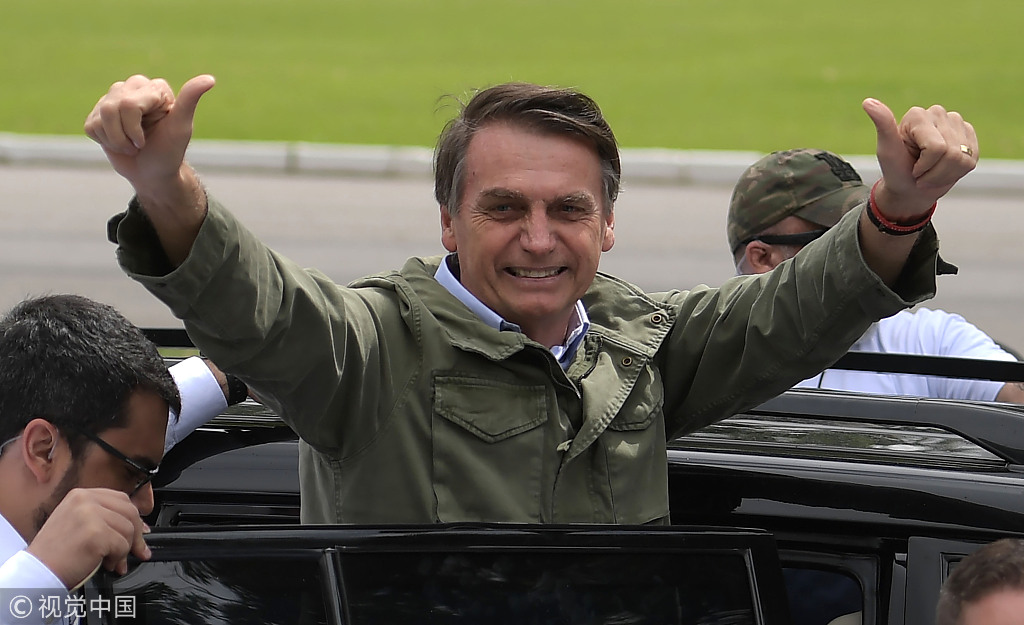 With Jair Bolsonaro, Brazilian president-elect, pledging radical changes to both the country's domestic and foreign policies, there has been some speculation about the prospects for China-Brazil relations.
And not only Chinese businesses operating in Brazil, but also the authorities in Beijing, will be asking: To what extent will the next leader of Latin America's biggest country disrupt the China-Brazil relationship?
It is a pertinent question. After all, Bolsonaro is portrayed by some as a "Tropical Trump", a right-winger who not only endorses United States President Donald Trump's nationalist agenda, but may actually copy a page from the latter's playbook. He has pledged to shun multilateral international institutions in favor of bilateral arrangements, and he has vowed to move the Brazilian embassy in Israel to Jerusalem.
Also, Bolsonaro sounded less than friendly to China on the campaign trail. He portrayed China as a predator looking to dominate key sectors of the Brazilian economy.
It is thus not surprising that people are wondering whether Bolsonaro will, as the US president has, deal a substantial blow to the otherwise thriving and mutually beneficial China-Brazil relationship.
We are not true believers of the popular assumption that promises made on the campaign trail are just for the campaign trail. Or that Bolsonaro the president will naturally eat the most extreme words of Bolsonaro the candidate.
Still, we cherish the sincere hope that when he assumes leadership of the world's eighth-largest economy, Bolsonaro will take an objective and rational look at the state of China-Brazil relations.
Because then he would be aware that China is his country's largest export market, and No 1 source of trade surplus. More important, the two economies are truly mutually complementary, and hardly competitors.
Bulk Brazilian supplies, most noticeably grain and minerals, have not only helped fuel China's rapid growth, but also supported the rapid growth of Brazil. Dumping China, whom Bolsonaro once described as an exceptional partner, may serve some specific political purpose. But the economic cost can be backbreaking for the Brazilian economy, which has just emerged from its worst recession in history.
While Bolsonaro may have emulated the US president in being outspoken and outrageous to capture the imagination of voters, there is no reason for him to copy Trump's trade policies — as many of his supporters have pointed out.
Most Viewed in 24 Hours
China Views