Hainan to promote language learning
Share - WeChat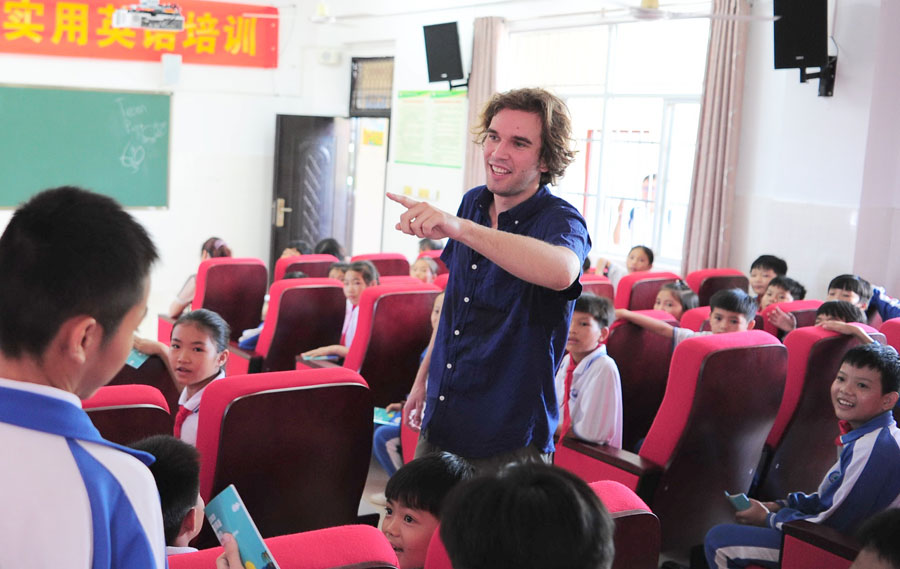 The Hainan provincial government has published an action plan to encourage foreign language learning on the island as it gears up to build a free-trade zone and port.
The plan, which covers the 2019-25 period, is aimed at improving language competence and communication skills for employees in government bodies, schools, media and public agencies in Hainan. The languages include English, Japanese, Russian, Korean and French.
Hainan plans to promote language learning throughout the province, enable most island residents to understand basic international etiquette and enhance their level of foreign language communication, according to the plan, which was issued on Wednesday.
Under the plan, around 60,000 first graders at primary schools in Haikou and Sanya will start learning English this year. Currently, primary school students begin to learn English from third grade, in line with national practice.
Besides Mandarin, primary and middle school students already have one mandatory language lesson, which is usually English. Schools are encouraged to teach a second language, it said.
People in government departments and the service sector are expected to attain professional knowledge of a foreign language and cultural etiquette, and be good at using at least one foreign language.
Hainan will also recruit teachers from overseas. Private investment is encouraged to establish language training centers. Websites for government and public agencies will have different language versions. Public signs will be multilingual by 2020.
Efforts will also be made to build multi-language publicity service platforms, including lectures on language and cultures, English learning salons, recreational language competitions, language videos broadcast through multimedia and television and simple daily language posters in residential communities and public places to boost public enthusiasm and create a convenient environment for language learning, the plan said.
The provincial government will establish work teams to inspect the language study work.
"The action plan is a timely move to help upgrade the quality of Hainan's 'software' - its talented personnel resources - which is much-needed for the development of the Hainan pilot free trade zone. Demonstration projects should be conducted to produce guidance and experience for other sectors to follow," said Yang Leida, professor and director of the College of Foreign Languages at Hainan Normal University.
"Most travel agency workers in Haikou are not good at English. Implementation of the action plan is good news for us to help accelerate the upgrading of foreign language levels among traveling business professionals," said Sun Xiangtao, deputy secretary-general of the Haikou Tourist Agents Association.
Hainan, China's southernmost province, is a popular tourist destination. It received more than 76 million tourists in 2018, according to official sources.
Overseas tourists made 1.1 million visits to Hainan in the first 11 months of 2018, generating revenues of around $680 million, Xinhua News Agency reported.