Hump Pilot retells World War II stories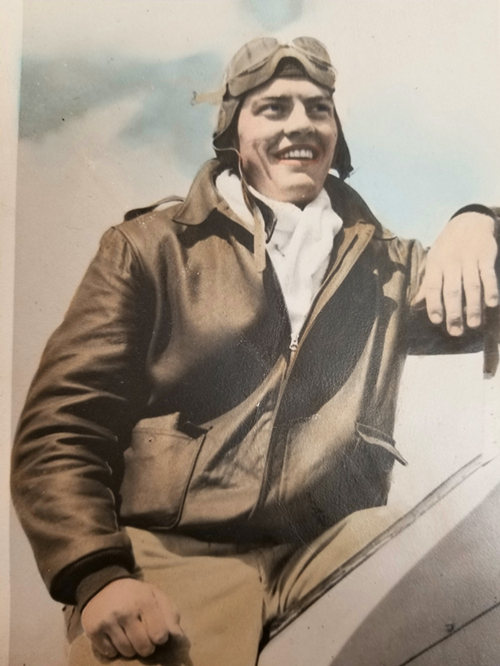 When Harris did his first solo flight in Army training in Lewiston, Idaho, he considered himself a real pilot.
When he was flying back and forth over the Himalayas, he said the Japanese planes pretty much left them alone and never got up on The Hump.
"We did have very little Japanese aircraft attack us. The conditions were too bad for the Japanese bombers to fight. If they did anything, they dropped bombs on the runways we were going to use in China. So we could not land, and we would have to throw our loads out because we could not make it back over the higher altitude," Harris recalled.
But the task was very risky because the round trip was full of high winds, subzero temperatures, thunderstorms and mountain peaks up to 18,000 feet high.
The pilots had no choice but to navigate the obstacles in overloaded C-46 aircraft built specially for the task. They nicknamed the C-46 the "Flying Coffin".
They had a lot of casualties, he said, "probably one in four and some of them never came home".
"We had to use oxygen masks all the time because of the pressure," he said. "We used them at night at the time we took off and the time we landed. In the daytime, we wouldn't put them on until we go over 10,000 feet.
"You'd listen for a signal on the radio, but in bad weather you couldn't hear the signal. So you had to rely on what they called gyrocompass," he said.
Despite the severe and harsh conditions, Harris himself went over and back 72 times.
"We would load our gas tank full and not refuel on the other side and come back. It was important to carry as much as we could to take off in India," Harris said. "It was about tons of materials, like bombs, gasoline, ammunition, food, medical supplies, but mainly gasoline and bombs."
Hump Pilots transported 650,000 tons of materiel to China at great cost in men and aircraft during their 42-month history.
"I was 21 years old; you don't have any fear when you are 21."
There were all kinds of life-threatening moments. Once Harris blew a tire when he was fully loaded with pipes for building up the gasoline pipeline to China. Most of the time he had to fl y by compass and let down by calculated flying time.