Hump Pilot retells World War II stories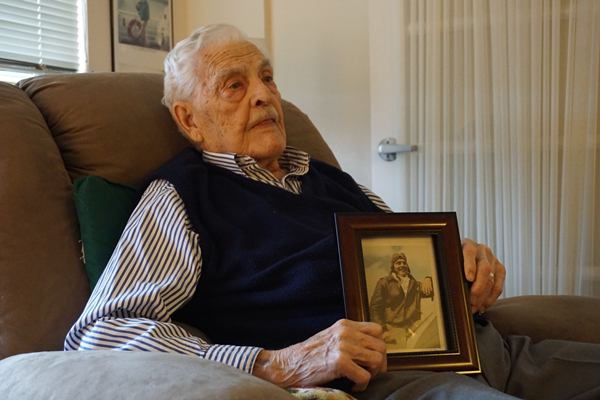 A visit with 96-year-old "Hump Pilot" Richard Daniel Harris is like reading a good book about World War II.
At Harris' apartment in West Seattle, you may burst into laughter when he describes how his beer blew up when he snapped the top off, flying at 16,000 feet, on hearing that Japan surrendered. And the other stories — like the Gurkha knife he got in Burma or the Assam Dragon — all come to life.
When you open his logbook and see the details of the treacherous trips he made over "The Hump", the pet name they gave to the eastern Himalayan mountain range, and who those trips were for, you'd realize how much what he did really meant to the people of the United States and China.
From February to October 1945, Harris flew military transport aircraft from India to China in support of the war effort against Japan.
The US Army Air Force's Air Transport Command (ATC) pilots flew from bases in northeast India's Assam Valley to Kunming, China in the southwestern province of Yunnan, about a 500-mile hop. They helped supply Chinese and American troops from 1942, when Japan took control of Burma and its land route, until 1945.
"When Pearl Harbor happened, there was a call to arms," Harris said. "When we were invaded by a foreign country; when they were at the table, trying to negotiate a peace, they attacked and bombed our ships in Honolulu. It is not fair."
Harris volunteered to join the Army. He served from July 3, 1942 to March 18, 1946, went in as private and was discharged a flight officer.
"I didn't expect to go in. ... I had a friend who was interested in it. I had a car and I drove him down. We both went in and took the physical. He didn't pass then I did," Harris recalled.